Civilian killed in intense Ukrainian army shelling of Donetsk despite ceasefire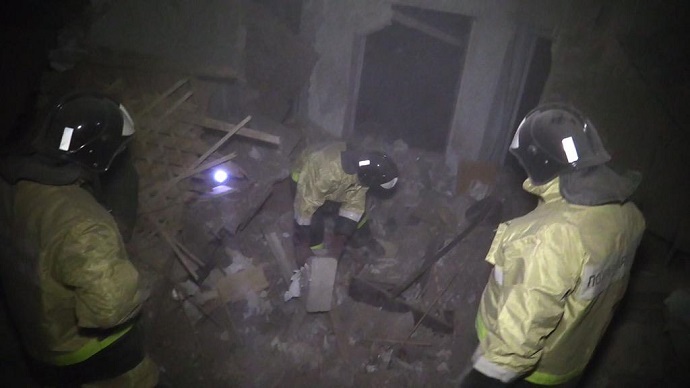 At least one civilian has been killed in the eastern Ukrainian city of Donetsk after an army shell hit an apartment building amid intense fire on rebel positions. An RT correspondent says the city has seen one of its worst shellings in months.
"There was fire, shelling for about two hours and it was almost non-stop…blast after blast, you could feel the vibrations from the explosions, kilometers away from the frontline," RT's Murad Gazdiev said over the phone from Donetsk.
According to Gazdiev, the attack centered on northern Donetsk, where the previously contested airport is located, but at least one shell landed on a civilian building. RT's crew rushed to the area to find out if the report was true.
"We found the residents who survived sitting outside, obviously in shock, covered in dust. One elderly man who lived on the top floor…the shell landed in his apartment. The place was almost torn apart, the walls were blasted out," Gazdiev said, describing the scene.
Dust covered pensioners, survivors of "ukrainian shell" impact, recount moment of horror - curse Ukrainian govt, army pic.twitter.com/VKlHSpV5Jy

— Murad Gazdiev (@MuradoRT) May 19, 2015
Rescue workers were still trying to find the man's remains in the rubble, he added.
The rise in violence in eastern Ukraine comes just days after Ukrainian President Petro Poroshenko vowed to "fight to the last drop of blood" against what he called "Russian aggressors" and called the internationally-recognized Minsk peace roadmap a "pseudo-peace" deal in an interview with the German TV channel ZDF. Earlier, Poroshenko's official website quoted him as saying: "I have no doubt – we will free the [Donetsk] airport, because it is our land. And we will rebuild the airport."
READ MORE: Poroshenko says Minsk deal 'pseudo-peace', vows to fight to the last drop of blood
The Donetsk Airport had been the last strategic spot occupied by Ukrainian troops in the rebel-held city before anti-government forces overran the area after eight months of siege.
Poroshenko's statement prompted reaction from both Moscow and Washington. While the Kremlin said it "clearly violated the Minsk agreements," US Secretary of State John Kerry advised Poroshenko to "think twice" before reigniting the conflict.
The Ukrainian president later backpedaled on his remarks about the airport, accusing the Russian press of overblowing the quote.
READ MORE: Ukrainian Parliament approves law allowing forced relocation of Russian citizens
The latest attack comes despite US Assistant Secretary of State Victoria Nuland, who is currently in Moscow on a Ukraine-centered visit, saying that "there is no indication from our own information or from my consultations in Kiev that anybody on the Ukrainian side, anybody in leadership…has any intention of launching new hostilities."
However, Daniel McAdams, the Executive Director of the Ron Paul Institute for Peace and Prosperity, believes the latest spate of violence has clearly been coordinated with Kiev's supporters in Washington.

"I think it would be very naïve to think that Poroshenko was doing that on his own. Even though we heard Kerry last week saying that Poroshenko's vow to retake eastern Ukraine, that he should shut up about it, the US has been training Ukrainian troops, it's been sending in dozens if not more Humvees and other equipment. They're providing the capability of the Ukrainian National Guard and Army to attack eastern Ukraine – why should there be any surprise they've been emboldened by this US assistance?"
READ MORE: No Ukraine for McCain: US constitution precludes senator from joining reform council
According to McAdams, there is no indication the US government has demanded that Kiev cooled down its stance on rebel-controlled areas in eastern Ukraine, while the military training and support have continued.

The shelling of Donetsk also comes on the heels of Nuland's visit to Kiev, which is no coincidence, according to the former foreign affairs advisor to Ron Paul.

"Any time a major US official has gone to the region, some attack has happened afterward – remember the CIA [director John Brennan] was there a couple of times and attacks immediately followed. This just seems to be another of those patterns," McAdams argued.
You can share this story on social media: