​Mexican teenagers tortured boy to death during 'kidnap game'
Published time: 18 May, 2015 15:11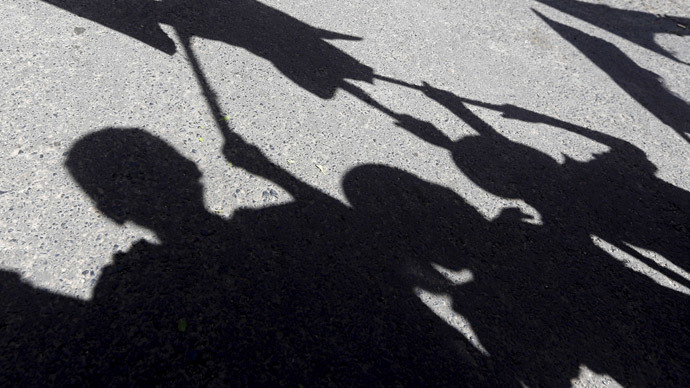 Five Mexican teenagers aged 11-15 have been accused of the brutal torture and murder of a six-year old boy during a "kidnap game."
According to the Chihuahua state prosecutors' office, the adolescents admitted to the killing.
The boy, Christopher Raymundo Marquez, was invited by a group of adolescents that were his neighbors and friends to play and collect firewood in a wasteland not far from his home in Chihuahua on Thursday, says a statement from the prosecutor's office.
Once they reached a stream in the wasteland, the children told Christopher they were going to feign a kidnapping. They then turned on him, tied his hands and feet together and beat him with a spiked stick. They followed this by stoning Christopher and finally choked him to death.
The eldest of the teenagers was only 15. Among the others were another 15-year-old boy, two 13-year-old girls and a boy aged 11.
The youngsters decided to bury the body in order to conceal their crime. They covered the hand-dug grave with weeds and a dead animal so as "not to attract attention to it."
The body was found buried face-down in a shallow grave in the northern Mexican city of Chihuahua early on Saturday afternoon – two days after he went missing.
According to Christopher's mother, Tania, her son's alleged killers together with their families took part in the search, as quoted by the Mexican Tiempo News.
However, the body was only found after the mother of one of the 15-year-old boys called the police and told them she had discovered her son had participated in the murder.
State Prosecutor Sergio Almaraz said: "While they were playing, one of the 15-year-olds suggested to the others that they should kill Christopher. It wasn't planned. It was a condition of the game they played."
Two 15-year-old boys now face criminal charges. However, the three younger children can't be tried as they are under the age of criminal responsibility in Mexico (set at 14). "'Because they're minors and very young they have very specific rights which are stipulated by law," a spokesman for the local prosecution service said, commenting on the authorities' decision.
"All five children will undergo psychological evaluation," the spokesman added.
The mother of the murdered boy is demanding justice: "They haven't done these horrible things to a dog, they've done them to my child. If justice isn't served, we'll make sure it's done with our own hands. I as a mom demand justice. How are they going to set these children free?" she said on Sunday, as quoted by the Proceso news website.