​France's main Protestant Church gives blessing to gay marriages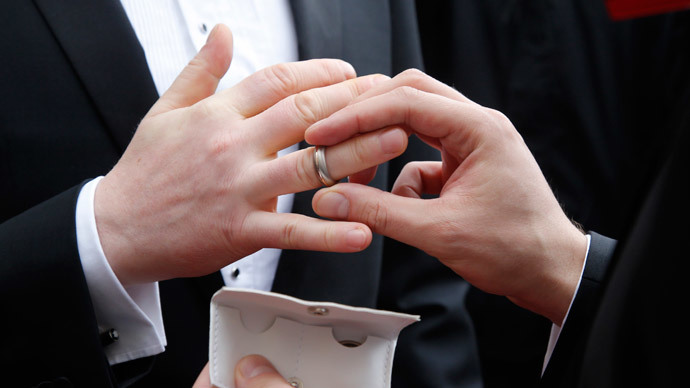 France's largest Protestant Church, the fourth-largest religious group in the country, has voted for its pastors to give their blessing to homosexual couples. The move comes two years after Paris legalized same-sex marriages.
"The synod has decided to take a step forward in accompanying people and these couples by opening the possibility of celebrating liturgical blessings if they want," said Laurent Schlumberger, president of the Church.
The United Protestant Church of France, claims it has about 110,000 active members and 400,000 believers. It was created back in 2012-2013 after the merger of the Reformed Church and the Evangelical Lutheran Church. It ranks behind Catholicism, Judaism and Islam in numbers of adherents.
The decision was supported by 94 delegates out of 100. Only three voted against blessing homosexual couples. However, the vicars who oppose the practice won't be forced to perform it.
La décision du Synode national et le texte intégral sont disponibles sur le sit web http://t.co/QOAo0YoNTk#SN2015

— Eglise Protest. Unie (@EPUdF) May 17, 2015
"The decision was adopted overwhelmingly and calmly, and has allowed us to move forward together, even if different positions within our Church remain on this subject," Schlumberger added.
"It's an option, not an obligation," as "every pastor and every parish is free to implement this change."
The Popular Evangelical Mission, which is much smaller than the United Protestant Church, previously authorized a ceremony of "prayer and liturgical welcome" for same-sex couples in France.
READ MORE: Tear gas, clashes after same-sex marriage law protest in Paris (PHOTOS, VIDEO)
France legalized gay marriages and adoption of children by gay couples in May 2013. The first official same-sex ceremony was held soon afterwards, on May 29, in the city of Montpellier. The bill saw nationwide protests defending traditional family values.
On Saturday, the Church of Scotland moved even further and voted to accept ministers and deacons in same-sex civil partnerships.
The Synod of the Lutheran Church of Sweden said yes to same-sex weddings back in 2009 and Denmark in 2012 made it mandatory for all churches to offer full religious weddings for gay couples. Norway followed its neighbors in 2014.
However, not all churches are so liberal towards same-sex weddings. Conservative Protestant churches, especially evangelicals, oppose the practice.
READ MORE: Ultra-conservative Catholics hit out at possible Vatican plans to welcome gays
The Vatican policy towards homosexuals became milder since Pope Francis was ordained. In 2013 he stated, "If a person is gay and seeks God and has goodwill, who am I to judge?"
The Catholic Church still condemns homosexual acts; however, it recognizes that gays could play a role within the Church.
You can share this story on social media: