​Never too late: Nazi-discriminated 102yo becomes world's oldest doctorate recipient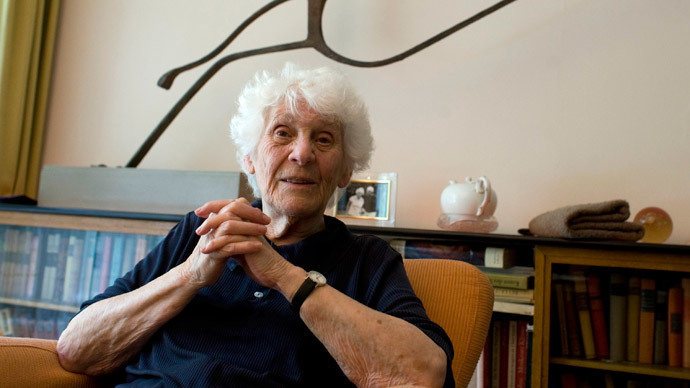 A woman aged 102 qualified for a doctorate on Wednesday – 77 years after her first attempt. She was forced out of the university in Nazi Germany because of her Jewish background.
Ingeborg Rapoport is a retired neonatal specialist who tried to attain a doctoral degree when she was 25 in 1938, five years after Adolf Hitler came to power in Germany. Her work was dedicated to diphtheria, a disease which was one main causes of infant mortality at that time.
Her studies were curtailed when she was not allowed to take an oral examination. Rapoport, née Syllm, was told that she had no opportunity for an academic career because her mother was Jewish. She was therefore a 'Jewish Mischling of the first degree' according to Nazi racial legislation.
"My medical existence was turned to rubble. It was a shame for science and a shame for Germany," Rapoport said as cited by Wall Street Journal.
'Non-Aryan' students and professors were discriminated against and banned nationwide. The University of Hamburg, where the then-Fraulein Syllm studied, was perhaps one of the most zealous universities in terms of applying the new rules. It was even declared "the first national-socialist institute of higher learning in the Reich" by its dean.
#ICYMI - Check out #Victory70 parades in this interactive map: http://t.co/GhJqUaWFKdpic.twitter.com/kUXhYMx8w2

— Ruptly (@Ruptly) May 11, 2015
Rapoport left Germany for the USA in 1938 – alone and stone-broke. She had several internships in various hospitals and managed to gain acceptance to the Women's Medical College of Pennsylvania in Philadelphia. In 1944, she met her future husband, Austrian-Jewish physician and biochemist Samuel Mitja Rapoport, at a Cincinnati hospital which was her first workplace.
In 1950, the Rapoports and their three children had to leave the USA because they had some links to the Communist Party. They spent Sunday mornings distributing the Daily Worker in depressed areas of Cincinnati. That behavior was not safe in the USA in the early 1950s, known as the era of McCarthyism.
After some wanderings they decided to stay in East Berlin, where Mr. Rapoport founded his own biochemical institute. His wife managed to found the first neonatology clinic in Germany.
"I've been shockingly lucky in all this. For me it all came out well: I had my best teachers in the US, I found my husband, I had my children," she says.
Several months ago, Rapoport's 77-year-old her dream of doctoral degree became attainable. The dean of the University of Hamburg's medical faculty, Dr. Uwe Koch-Gromus, was told about Rapoport's history and turned attention to it.
Both Rapoport and Koch-Gromus ruled out the idea of an honorary doctorate for a 102-year-old researcher – they wanted her to get the real one.
'I seek forgiveness': 93yo former 'Bookkeeper of #Auschwitz' stands trial in Germany http://t.co/mKOq1v9gRgpic.twitter.com/jLyyAkPfCW

— RT (@RT_com) April 21, 2015
Despite some bureaucratic obstacles Rapoport was given the green light and she started work on her thesis once again. It was not easy for her as she cannot read or use a computer because of her failing eyesight. Her relatives and friends picked up gathered information and relayed it to her by phone.
"I know a lot more about diphtheria now than I did then," she said.
On Wednesday, Koch-Gromus and two other professors approved Rapoport's doctorate after a 45-minute examination.
"It was a very good test. Frau Rapoport has gathered notable knowledge about what's happened since then. Particularly given her age, she was brilliant," said the dean.
The graduation ceremony is scheduled for June 9, when Rapoport will officially become the oldest recipient of doctorate. The current record belongs to Emeritus Professor Dr. Heinz Wenderoth (Germany), who was awarded the degree of Doctor of Science by the Gottfried Wilhelm Leibniz University of Hannover on September 29, 2008, at the age of 97 years eight months and 18 days.