'Meter of armor': Armata's next supreme 152mm gun to sport super-piercing shell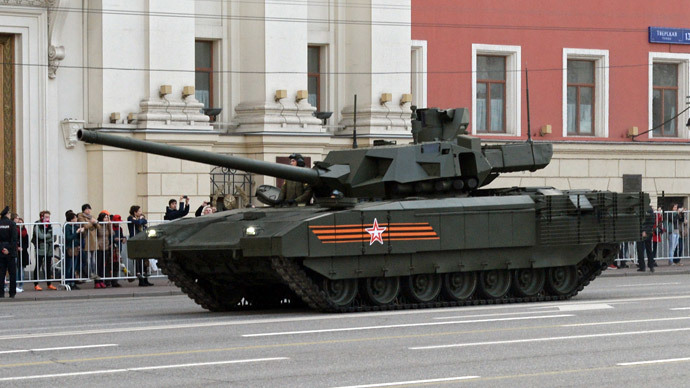 Russia's new T-14 Armata tank is going to get an even more powerful armament, as the next version of the main battle tank will be armed with previously rumored 152mm gun, revealed the official in charge of the defense industry.
Deputy PM Dmitry Rogozin told Izvestia newspaper that next-stage Armata tanks will be supplied with already-developed big bore cannon and brand new projectiles.
"We've got a new projectile for this tank than can burn through a meter of steel, we would arm Armata with that one," Rogozin said.
@LentaVpk: Rogozin: An "Armata" tank shell will burn through a meter of steel http://t.co/EOC5gYqBPDpic.twitter.com/7AET9j5CGv

— Dmitry Rogozin (@DRogozin) May 13, 2015
When the Armata (T-14) tank gets this 152mm gun, it will be the most powerful cannon to be mounted on a main battle tank of any country ever.
The unmanned remote-controlled turrets of T-14 tanks that rolled on the Red Square in Moscow on Victory Day, May 9, were armed with a brand new 125mm 2A82-1M smoothbore cannon with improved accuracy and angular dispersion.
READ MORE: 70 for Victory: Armata tanks, nuclear bombers, intl boots in Moscow for V-Day
This cannon's muzzle energy is reportedly greater than the world's previously considered best tank cannon: the German Leopard-2 Rheinmetall 120mm gun.
Speaking at the meeting dedicated to development of the Russia's armed forces, President Vladimir Putin ordered that test operations of the recently-paraded new military hardware and the attainment of industrial-level production be completed "in the shortest time possible."
READ MORE: Armata unveiled: First ever full high-def photos of Russia's newest hardware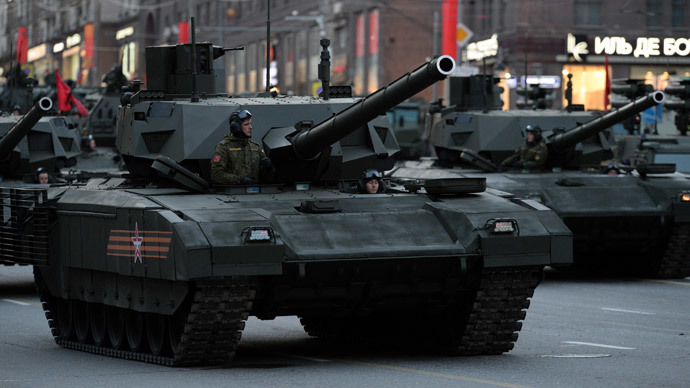 In March, when even the appearance of Armata tank remained a mystery, PM Rogozin said that this classified development of Russian engineers "is a true breakthrough in tank construction."
"No European country or the US has anything similar. This is a combat vehicle of the 21st century," Rogozin said.
READ MORE: Network-centric: Russia's new Armata tank 'to absorb all battlefield intel'
You can share this story on social media: