Pro-ISIS hackers threaten US, Europe, Australia with 'electronic war'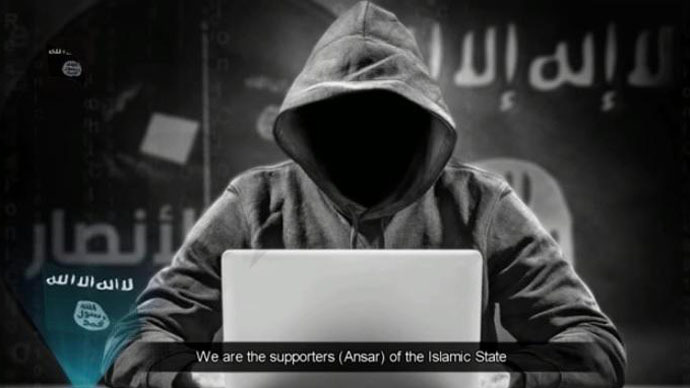 A hacker group claiming Islamic State affiliation has released a video threatening "electronic war" against the US, Europe, and Australia. They say they've already hacked sites belonging to "American leadership," an Australian airport, and "others."
The three-minute video, titled 'Message to America,' was uploaded by a group calling itself the 'Islamic State's Defenders in the Internet.'
READ MORE: ISIS hacking division publishes US servicemen 'death list'
The footage, accompanied by English subtitles, shows a hooded and anonymous figure speaking in a masked voice in Arabic.
The figure directs the video at the US and Europe, stating that an electronic war is coming. He warns that the group will carry out cyber attacks, claiming it is already monitoring the communications of residents in both locations.
The video goes on to state that websites belonging to American leadership and an Australian airport have been hacked, among other sites.
However, the group did not provide evidence of the hacking, or the names of any US officials.
The footage also reminds of previous internet security breaches, such as the Cyber Caliphate's hack of the US Central Command's (CENTCOM) Twitter and YouTube accounts in January.
READ MORE: French TV station 'hacked by ISIS' exposes account passwords on air
But despite claiming to be aligned with the Islamic State (IS, formerly ISIS/ISIL), it remains unclear whether the 'Islamic State's Defenders in the Internet' is actually supported by the militant group, as it was not released by one of its official media outlets.
The video comes just one month after US President Barack Obama signed an executive order allowing to sanction suspected cyber-criminals abroad with financial and travel restrictions.
You can share this story on social media: