IDF, Hamas have common interests in Gaza – Israeli general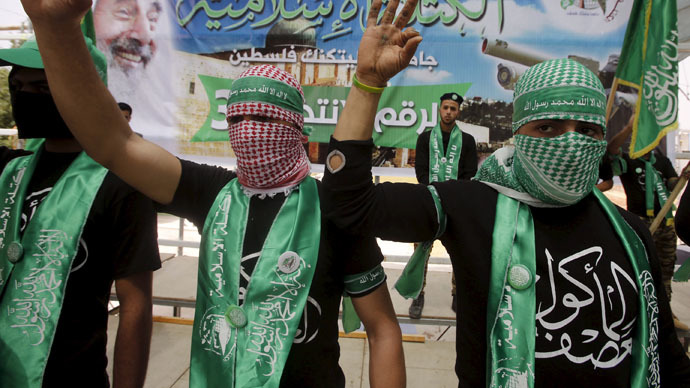 Israel and Hamas share common interests, and the latter is needed to maintain stability in the Gaza Strip, an Israeli general says. It comes after right-wing Israeli politicians criticized the military for failing to oust Hamas from Gaza.
According to Major-General Sami Turgeman, Hamas' continued rule is necessary to prevent the enclave from descending into chaos. Turgeman is in charge of Israeli forces on the Gaza and Egyptian borders.
READ MORE: Israeli soldiers 'deliberately fired' at civilians during Gaza war – NGO
Speaking to the heads of Israeli villages on the Gaza periphery, Turgeman said the Islamist group seeks stability and "does not want global jihad" – a term used by Tel Aviv to describe the Islamic State (IS, formerly ISIS/ISIL), Al-Qaeda, and their off-shoots.
"Israel and Hamas have shared interests, including in the current situation, which is quiet and calm and growth and prosperity," said the general, as quoted by Yedioth Ahronoth newspaper on Tuesday.
"There is no substitute for Hamas as sovereign in the Strip. The substitute is the IDF (Israel Defense Forces) and chaotic rule...and then the security situation would be much more problematic," he said.
Turgeman's remarks directly contradict statements made by Israeli Prime Minister Benjamin Netanyahu, who has described Hamas and the Islamic State as "branches of the same poisonous tree."
UN blames Israel for 7 deadly attacks on schools during #Gaza War http://t.co/Zem3QAwHHHpic.twitter.com/rsDaPoYA6g

— RT (@RT_com) April 28, 2015
The comments also come despite Turgeman's leading role in last year's war with Hamas, which led to the deaths of 2,200 Palestinians and 73 Israelis.
After the war, right-wing politicians – including members of Netanyahu's cabinet – criticized the August 26 truce, stating that the military should have continued its offensive against Gaza until Hamas was removed from power.
While the Egyptian-brokered truce has been largely held by both sides, Turgeman admitted that fighting in Gaza appears inevitable and will take place "every few years."
READ MORE: At its 27th birthday parade, Hamas vows to destroy Israel
He also predicted a continued build-up of Hamas' armed capabilities.
"I don't know any military that doesn't start building its force after a war. We did that, too."
Turgeman, who is stepping down from his post in two months, added that Israel has "no goal" that it wants to achieve in Gaza.
"The only goals are prevention, to prevent chaos and a humanitarian crisis. Therefore, it's not possible to take actions that are against the strategy and this is the state's position."
Hamas, which took power in Gaza following a brief civil war in 2007, preaches the destruction of Israel which in turn launched several military offensives against the Gaza Strip.
You can share this story on social media: