Switzerland unveils its first driverless cars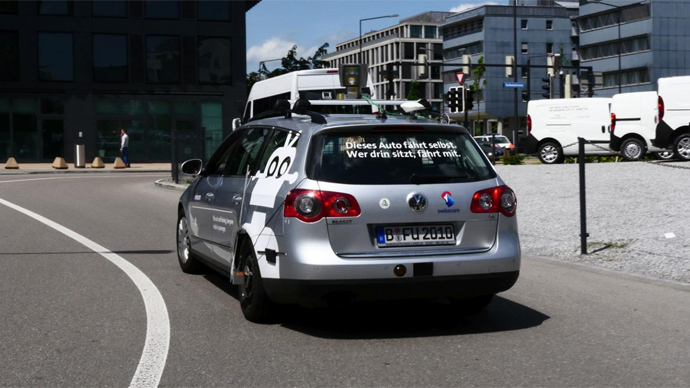 A Swiss leading telecom provider has reported on the first test-drives of an autonomous car equipped with sensors, computers and special software. The car is being trialed around the streets of Zurich with two human passengers on board, Swisscom said.
The road tests of an autonomous Volkswagen Passat started last week and are expected to finish on Thursday, the company said in Tuesday's statement.
Swisscom says it is not trying to gain its share in the auto-making market but rather wants to understand how to apply the innovations of digital communications network in this sector.
"Swisscom is not turning into a car manufacturer. But future innovations in the automotive industry will centre on networking with the environment. For this reason, the driverless car is a prime example of digitisation and therefore of great interest to us," said company official Christian Petit in a statement.
Hände weg vom Steuer – Swisscom schickte heute den ersten #selfdrivingcar auf die Schweizer Strassen! pic.twitter.com/YAJjX20Dgj

— Swisscom AG (@Swisscom_de) May 12, 2015
The software developed by Swisscom is used to give driving instructions and analyze data. The board computer powers, steers and brakes the car. Radars, video cameras and laser scanners are used to detect nearby vehicles and pedestrians.
Germany's AutoNomos Labs, which has run similar tests in Berlin, also participates in the project.
READ MORE: 4 self-driving cars in California have been involved in accidents in recent months – report
Promising news for driverless car producers appeared on Monday as California's Department of Motor Vehicles stated that only four of its 48 driverless cars participating in tests have been involved in accidents.
Google's fleet of around twenty cars has completed nearly a million miles without human intervention since the project started six years ago, said the head of Google's self-driving car project, Chris Urmson.
Urmson said after all years there had been 11 accidents, with no consequent injuries and only light damage sustained. "Not once," he added "was the self-driving car the cause."
You can share this story on social media: