Magnitude 7.3 deadly earthquake strikes Nepal close to Everest
A 7.3-magnitude quake has rocked Nepal, followed by two major aftershocks. At least 37 people have been killed in the country and over 1,000 injured. It comes weeks after a disastrous quake left over 8,000 people dead, affecting millions.
Sixteen others were killed in India after rooftops or walls collapsed onto them, according to the country's Home Ministry. Chinese media reported one death in Tibet.
The quake hit near the town of Namche Bazaar, close to Mt. Everest. It was originally given a magnitude of 7.4 by the US Geological Survey (USGS), but was later downgraded to 7.3.
Prelim M7.4 earthquake NEPAL May-12 07:05 UTC, updates http://t.co/RSXtr3kD1M, 86 #quake tweets/min

— USGSted (@USGSted) May 12, 2015
The 7.4 quake that just hit! #NepalQuakepic.twitter.com/htOvG9Cm1B

— Sanjog DUTTA (@sanjogdutta) May 12, 2015
Hundreds of people running of out of Kathmandu airport. Scary shaking from aftershock #NepalQuakepic.twitter.com/XiIdB0BCCS

— Jack Board (@JackBoard) May 12, 2015
We just had a major aftershock (7.1M) here in Nepal. The ground was shaking for about 45 seconds. All NetHope... http://t.co/C3uHgraHR0

— Gisli Olafsson (@gislio) May 12, 2015
NEPAL - Patients are carried out of a hospital building as a new earthquake hits the country.By @PrakashMathema#AFPpic.twitter.com/hCMS8zQycw

— Frédérique Geffard (@fgeffardAFP) May 12, 2015
Our colleagues in Chautara report buildings collapsing there in the 7.1M aftershock #NepalQuake

— Gisli Olafsson (@gislio) May 12, 2015
"This is a really big one," Prakash Shilpakar, the owner of a handicrafts shop in Kathmandu, told Reuters. Shilpakar was trying to call his parents in the town of Bhaktapur, which was destroyed in the devastating April earthquake.
Rescue helicopters have been sent to mountain areas, where landslides and collapsed buildings may have buried people, the Nepalese government said. The Sindhupalchowk and Dolkha districts were the worst hit, according to Home Ministry officialLaxmi Dhakal.
Difficult to get across through phones. No electricity. People carrying umbrellas & chairs sitting in the open. Bhaktapur after #NepalQuake

— Daulat Jha (@daulatjha) May 12, 2015
Another strong quake measuring at 5.2 magnitude struck some 70 kilometers west of the capital Kathmandu shortly after 3:00am local time on Wednesday.
It comes just a few weeks after a devastating 7.8-magnitude quake left over 8,000 people dead and almost 18,000 injured.
READ MORE: Deadly Nepal quake was long predicted

Around eight million people in Nepal, which has a total population of 28 million, have been affected by the disaster, the UN estimated.
Some two million people still need tents, drinking water, food and medicine.
READ MORE: Seismic splash: Pool tsunami spillage in Kathmandu during earthquake (VIDEO)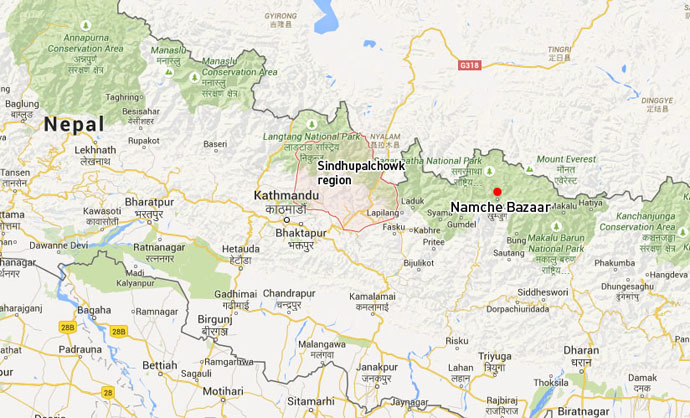 The latest tremor struck near the base camp for Everest, and was felt across the country, including the capital, Kathmandu. Everest Base Camp was evacuated after an avalanche caused by the last quake killed 18 climbers. Mountaineers subsequently canceled this year's Everest season.
READ MORE: Shocking moment: Avalanche ripping through Everest camp captured by climbers (VIDEO)

Shockwaves were also felt as far away as northern India and Bangladesh.
Subway services have been halted in India's New Delhi and Calcutta following the latest quake.
Tuesday's quake was deeper than the one in April, measuring at a depth of 18.5 kilometers (11.5 miles) versus the earlier one at 15 kilometers (9.3 miles). Shallow earthquakes tend to cause more damage.
#breakingnews #Feeling #earthquake #another #naturaldisaster #centre #nepal #praying #to #god #please #don't #hurt #anyone #hard #time

A video posted by Rishav Raj (@rishav_rajput) on May 12, 2015 at 12:38am PDT
And Kolkata still getting shocks it's tremors again !!!! It is reported that the epicenter is again in Nepal ... I feel so sad for people there... they haven't been cured from the first tremors and they got more ....pray for Nepal stay safe . #tremors #earthquake #india #Kolkata #nepal #shocks #6.9 #prayfornepal # stay #safe

A video posted by priyam (@ascartiz185) on May 12, 2015 at 12:32am PDT
You can share this story on social media: