Seismic splash: Pool tsunami spillage in Kathmandu during earthquake (VIDEO)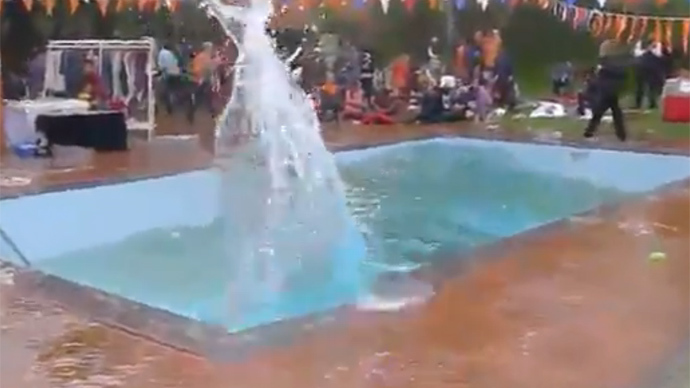 A video of a most unusual tsunami in an ordinary swimming pool was recorded in Kathmandu as it was rocked by the recent deadly earthquake on April 25.
The aquatic phenomenon was witnessed by a Dutch couple vacationing in the country when powerful tremors shook the Nepalese capital.
No one was in the pool at the time, but the video shows panic and terror among both tourists and locals that were by the pool at the time. The pool was shaken so hard that considerable quantities of water were simply thrown around, making many people wringing wet. Children were crying while vendors tried to fix their merchandise falling from the tables.
If you don't know how a real sea tsunami is formed, take a look at this video to have a better idea about what causes the disaster.
READ MORE: 'Before' & 'After' images of Nepal's key landmarks show scale of devastation (PHOTOS)
The April 25 quake struck 83 kilometers northwest of Kathmandu at a depth of 15 kilometers. As of Sunday, rescue authorities say there is no hope of recovering anyone alive from under the rubble. The death toll has passed the 8,000 mark.
You can share this story on social media: