'Before' & 'After' images of Nepal's key landmarks show scale of devastation (PHOTOS)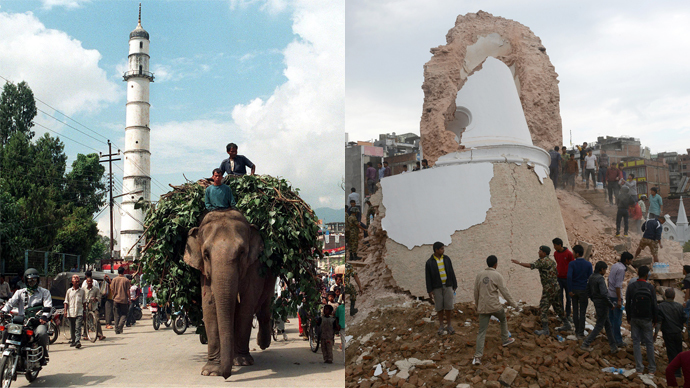 A number of Nepal's iconic UNESCO World Heritage sites and landmarks, including the Dharahara Tower built for a queen, have been destroyed following the earthquake that hit the country Saturday morning, killing over 3,300 people.
The 60-meter-high tower, built in 1832 with a viewing balcony that had been open to visitors for a decade, was destroyed by the magnitude 7.9 earthquake. A jagged stump 10 meters high is all that's left of the lighthouse-like structure, according to Reuters. As bodies were pulled from the ruins, a policeman reportedly said that up to 200 people had been trapped inside.
Dharahara tower is busy destination for families on weekends. Today, it collapsed trapping many. Rescue ops ongoing. pic.twitter.com/wtuxDLkvWz

— Kashish Das Shrestha (@kashishds) April 25, 2015
Nepal's Kathmandu Valley, in the foothills of the Himalayas at the crossroads of ancient civilizations, includes seven groups of monuments featuring a range of religious and artistic achievements that have made it revered, according to UNESCO. Age-old temples are among them.
"The unique tiered temples are mostly made of fired brick with mud mortar and timber structures. The roofs are covered with small overlapping terracotta tiles, with gilded brass ornamentation. The windows, doorways and roof struts have rich decorative carvings. The stupas have simple but powerful forms with massive, whitewashed hemispheres supporting gilded cubes with the all-seeing eternal Buddha eyes," a UNESCO description informs.
Bhimsen Tower aka Dharahara in #Nepal before and After the #earthquakepic.twitter.com/JbdlV34rj9

— Swapnil Ghangale (@GcsswapniL) April 25, 2015
After the earthquake, rescuers scrabbled through destroyed buildings, among them ancient wooden Hindu temples.

"I can see three bodies of monks trapped in the debris of a collapsed building near a monastery," Indian tourist Devyani Pant told Reuters. "We are trying to pull the bodies out and look for anyone who is trapped."
This breaks my heart. Basantapur Durbar square, one of the historic places of Nepal, before and after. pic.twitter.com/OLqnoluqnz

— FG (@FunnyGooner) April 25, 2015
Kathmandu's Durbar Square, one of three Durbar royal palace squares in the valley, all of which are UNESCO World Heritage Sites, has also been leveled.
Earlier today, iconic Kasthamandap temple. Blood donation drive was happening; Quake struck, trapping/killing ppl. pic.twitter.com/YYAK89Ek0B

— Kashish Das Shrestha (@kashishds) April 25, 2015
Patan Durbar Square, its floor tiled with red bricks, was a UNESCO World Heritage Site too. The landmark at the center of the city of Lalitpur has been severely damaged.
Patan Durbar Square (#Nepal's Pride & UNESCO's World Heritage Site) BEFORE/AFTER the #NepalEarthquake#PrayForNepalpic.twitter.com/JcxNJWsYLn

— JigmeUgen (@JigmeUgen) April 25, 2015
Basantapur Durbar Sq (@UNESCO heritage site) photographed by grandfather in 1950s, & I today. Tragic at many levels. pic.twitter.com/Qp8cWTlZMs

— Kashish Das Shrestha (@kashishds) April 25, 2015
A gilded statue of King Bhupatindra Malla, his hands folded in prayer, was turned into rubble as well in Patan Durbar Square.
Patan Durbar's Bhupatindra Malla statue pillar before i have taken on my vacation time & after this afternoon. #Nepalpic.twitter.com/WydJWFaURK

— © Roshan Karki (@roshankarki5) April 25, 2015
You can share this story on social media: