Kiev seeks $350bn damages from Russia for 'aggression'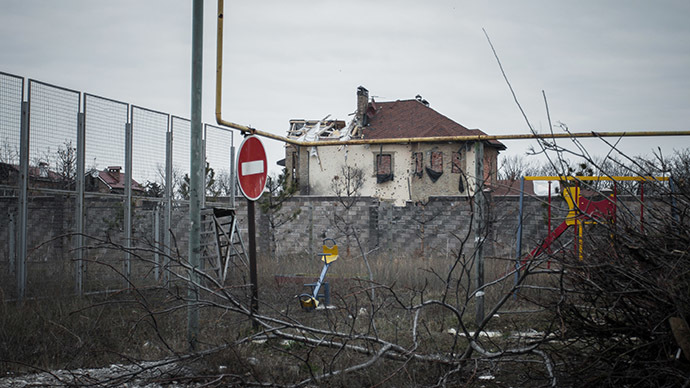 Russia has to pay Ukraine $350 billion in damages, a top government official said in an interview. Kiev is accusing Russia of invading its territory, a claim Moscow denies.
"At a certain point Russia will pay," Ukrainian Deputy Economy Development Minister Aleksandr Borovik told Channel 5. "We need to calculate, we need to be ready to lobby it wherever we can. And say, look, this must be paid."
The Ukrainian official said the sum was taken from the precedent of Saddam Hussein's invasion of Kuwait in 1991.
"It was $350 billion when Iraq attacked Kuwait. Then they decided $320 billion was owed. Taking into account how long that aggression took and how long Russia's aggression against us has been going on, those are comparable," Borovik said.
Iraq was ordered to pay compensation to damages caused by the Kuwait invasion by the UN Security Council. A body called United Nations Compensation Commission was created to handle the issue. Over 2.5 million claims were submitted, totaling over $350 billion, but the commission ruled that approximately $52 billion should be paid, with money deducted from Iraq's oil revenues.
The chance of Kiev actually getting money from Russia on this claim is quite slim, UK-based journalist Neil Clark said.
"I think legally they are, to say the least, on very shaky ground," he told RT. "This whole conflict was provoked by Kiev in the first place. Not only they would have to prove that the rebels provoked it, they would have to prove that there is a direct line between the rebels and Moscow. And they would not be able to do that. I think this is purely political posturing."
He added that if any side should pay for the damages in Eastern Ukraine, that would be the United States and the EU, which "engineered a coup against the democratic government" of Ukraine.
"There wasn't all this damage and refugees in the East back in February 2014," he said. "The responsibility for the terrible chaos, the disaster that hit Ukraine lies primarily with the United States. As is the responsibility for the enormous damage and destruction done to Iraq, Libya and Syria. The number one responsibility for that lies with the US. To blame Russia is quite outrageous."
Kiev has a separate multibillion dollar claim against Russia over a gas contract between the two countries. According to Prime Minister Arseniy Yatsenyuk's government, the contract was unfair and Ukraine suffered $16 billion in damages due to too-high gas prices and too-low transit tariffs.
READ MORE: Ukraine seeks $16bn from Gazprom in arbitration court
Ironically, the gas contract was signed by former Ukrainian Prime Minister Yulia Tymoshenko, who was Yatsenyuk's boss in the Fatherland political party. Former Ukrainian President Viktor Yanukovich had Tymoshenko tried and sentenced to a prison term for overstepping her authority in signing the contract. Yanukovich himself was ousted in an armed coup last year that brought opposition figures, including Yatsenyuk, to power.
The Ukrainian economy is in tatters in the wake of the coup, as it suffers from the tumbling value of the national currency, severing economic ties with Russia, a mounting national debt and large budget spending to build up the army.
Kiev is accusing Russia of conducting a secret war against Ukraine by supporting rebellious regions in the east with arms and fighters. Moscow denies the allegations, citing a lack of evidence, and says Kiev is fueling a civil war by refusing to negotiate with the rebel forces and properly follow a peace plan brokered by France, Germany, Russia and Ukraine in February.
The Ukrainian parliament adopted a decree officially labeling Russia an "aggressor state." At least two bills are being considered that would make public denial of "Russian aggression" a criminal offense punishable by a prison term in Ukraine.
You can share this story on social media: