Activists found guilty of trashing deli named 'Vegan's worst nightmare'
Published time: 9 May, 2015 03:39
Edited time: 9 May, 2015 20:15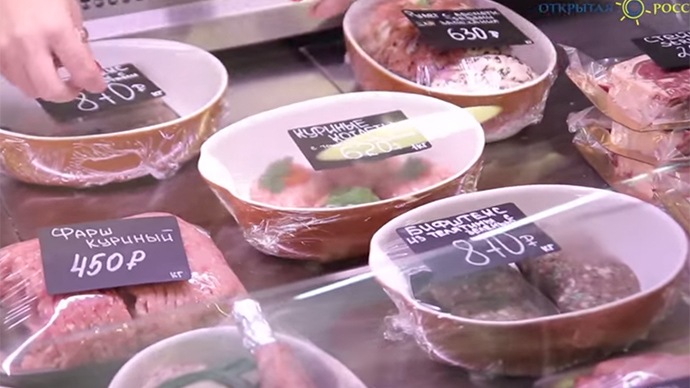 Three animal rights activists will pay over 279,000 rubles ($5,450) in fines, after carrying out a campaign of violence and threats against a St. Petersburg delicatessen with an "offensive" name: 'Vegan's worst nightmare.'
Russian prosecutors found that on January 3, the activists broke the sign, shop window, fridge glass, and a CCTV camera at the quirkily-named, trendy establishment specializing in meat products. Two nights later, they returned, throwing stones through the broken windows, and splashing paint throughout the shop.

"If you don't close, we will have to take more radical measures," said a note they left behind.

Not only did the perpetrators, two men and a woman in their twenties, fail to cover their tracks, but actually posted reports of their acts on public group pages on prominent social networks, as well as YouTube. At one point, the group even gave an interview to an online portal with their faces uncovered.
"These were not the first attacks. Ever since we opened a year and a half ago, we were targeted by this behavior, which started off reasonably innocent, with them turning over flowerpots outside, and spraying paint. Mostly we shrugged it off, but [this was] just too much," said shop owner Yegor Burdin.

Using their beloved format – a self-shot YouTube video – the three activists, who previously claimed that their acts were "a rebellion against a symbol of the soulless capitalist machine," have now made an official video apology to Burdin.

"We now realize that we have made a mistake, and we should fight for our cause using other means. We do not advise anyone to follow our lead."
Рвем шаблоны! Нет душным банкетным залам — только лето, только мясо, только хард кор!Posted by Страшный сон вегана. Барбекю-кейтеринг on Tuesday, April 14, 2015