​'Bank of terror': 5 accused of conning pensioners to fund ISIS
Published time: 8 May, 2015 16:04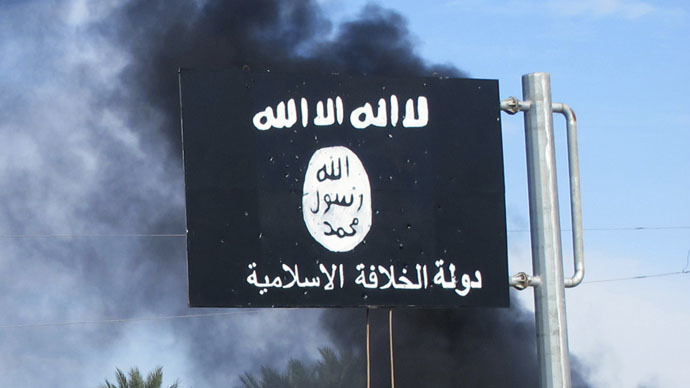 A group of five has been accused of tricking pensioners as old as 96 years old and carrying out a £400,000 phishing-type fraud. The money, prosecutors believe, was used to fund the Islamic State as well as help UK citizens travel to Syria.
Five men are standing trial at Westminster Magistrates Court after a series of raids yesterday across London and the South East. Three of them are students: Makhzumi Abukar, 23, from Westminster University; Sakaria Aden, 21, from Southbank University and Mohamed Dahir, 22, from London Metropolitan University. The other two defendants are Yasser Abukar, 23, from North London and Ibrahim Anderson, 38, from the town of Luton. All five appeared in the dock, where they appeared dressed in sweatshirts and jogging bottoms. The men are suspected of committing fraud.
Two alleged accomplices of the gang have also been arrested: Mohammed Sharif Abokar, 27, from Islington, North London, who appeared before Dunstable Magistrates' Court and an unnamed 32-year-old woman who was later bailed.
The swindlers are believed to have used a voice phishing scam. They called the victims, masquerading as police officers, and told the victims that their accounts were being threatened and advised them to call "999". Criminals also used a device to keep the line open so that if a victim followed their advice - hanging up and dialing an emergency telephone number - he or she would be connected with another gang member who pretended to be a police officer.
READ MORE: Most dangerous Islamic State leaders come from Scandinavia - Syrian President Assad
As a result, complainants either provided the swindlers with their personal details or were persuaded to withdraw their money and to give them to a courier who promised to take money to a police station as evidence.
Investigators think that the gang targeted eight pensioners who were mainly in their 70s, 80s and 90s from January 2014 up to May,2015. One of the victims, a 73-year-old woman from Cornwall, lost £130,000 from her account. The other complainants are a couple from Canterbury aged 94 and 96, respectively. Westminster Magistrates' Court prosecutor Edward Aydin said that the gang had fleeced a total of almost £400,000, the Express online reported.
The criminals are thought to have financed jihadist journeys for those who want to leave Britain for Syria to fight alongside the Islamic State. Aydin described this crime as "financing terrorism on an industrial scale."
"We say these funds are then used to help those UK citizens nominally to travel to Syria and Iraq fight for the Islamic State... These funds are used to buy weapons and bullets," Aydin said.
READ MORE: Up to 6,000 Europeans joined ISIS in Syria – EU
He also called such criminal networks "a threat to the national security of this country."
"These people before you, they are the bank of terror. They are not small fry, they are deadly and dangerous," Aydin said.
"Terrorism overall takes a new form in 2015, it's not on the battlefield," he added.
The EU has been concerned about its citizens' traveling to Syria and Iraq with the purpose of fighting with the Islamic State as the terrorist group seizes control over a significant amount of territory, attracting thousands of foreigners to fight in their ranks. Earlier in April, the EU Commissioner for Justice estimated that between 5,000 and 6,000 Europeans have joined the Islamic State in Syria.