Record 38mn people internally displaced worldwide in 2014 - report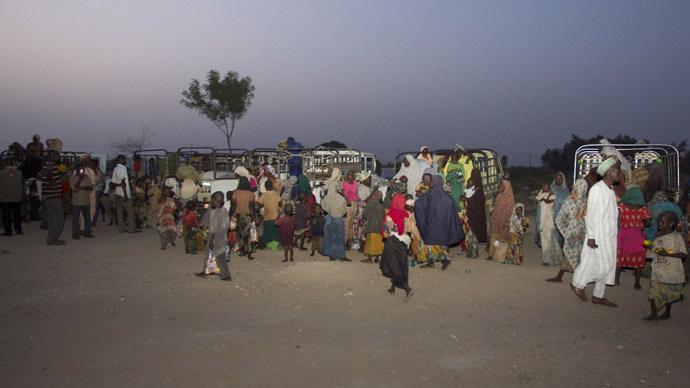 Conflicts and violence made 30,000 people flee their homes each day in 2014, pushing the overall number of the internally displaced to a high of 38 million, a newly-released report says.
The number of the displaced thus equals "the total populations of London, New York and Beijing combined," specifies report by the Norwegian Refugee Council (NRC) and the Internal Displacement Monitoring Center.
The overview covering 60 countries, says 11 million people were forced to move within their own countries in 2014 alone. As a result of ongoing conflicts, the number of internally displaced people worldwide now stands at 38 million, the highest in a generation.
There are now more than twice the number of Internally Displaced People (IDPs) than there are refugees, according to the report.
"Global diplomats, UN resolutions, peace talks and ceasefire agreements have lost the battle against ruthless armed men who are driven by political or religious interests rather than human imperatives," Jan Egeland, secretary general at the Norwegian Refugee Council (NRC) said in a statement. "This report should be a tremendous wake-up call. We must break this trend where millions of men, women and children are becoming trapped in conflict zones around the world."
The worst countries for internal displacement were Iraq, South Sudan, Syria, the Democratic Republic of Congo (DRC) and Nigeria, which accounted for 60 percent of all new displacements worldwide.
Iraq saw the highest number of IDPs, with 2.2 million people fleeing areas that fell under ISIS control.
READ MORE: 'Rape and sodomy': Leaked UN report details French soldiers' abuse against African boys
In Syria the civil war that has been raging for three years has seen 7.1 million people displaced; 35 percent of the country's population and 1.1 million of them were forced out of their homes in 2014.
In South Sudan, the newest country in the world, 1.1 million people were forced to flee and in the DRC a low intensity but brutal conflict forced at least a million people from their homes.
Meanwhile, in Europe the conflict in Ukraine has resulted in almost 650,000 people leaving their homes, the highest figure in Europe for more than a decade.
Other areas of high internal displacement were Somalia, Colombia and Pakistan.
"The longer a conflict lasts, the more insecure [IDPs] feel and when hopelessness sets in, many will cross borders and become refugees," said Volker Türk, assistant high commissioner for protection at the UN's High Commissioner for Refugees (UNHCR).
"As we have seen in the recent past, for example in the Mediterranean, despair drives people to take their chances and even risk dangerous boat journeys," he added.
READ MORE: Syrian cartoonist illustrates UK govt's failure to aid refugees
The authors of the report warned that they encountered serious limitations when they were collecting data and in the majority of cases comprehensive data does not exist.
They also found that there are an ever increasing number of protracted internally displaced people; this is IDPs who have been living away from their homes for more than 10 years. The reasons for this were many but include people being unable to meet their survival needs or access assistance where they were so they were forced to move again. In other cases governments' failure to understand the problem and natural disasters also played a role.
Meanwhile, the UN said last year that the number of people living as refugees, including IDPs, had now exceeded 50 million, the highest since World War II.
You can share this story on social media: