Venezuela president's fruitful beaning inspires new 'Maduro Mango Attack' app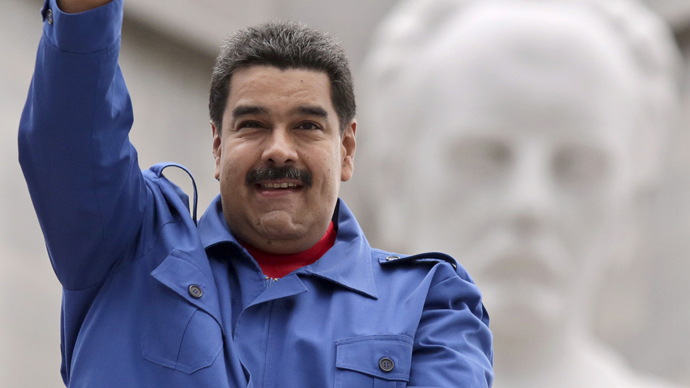 Inspired by a Venezuelan woman who got an apartment after hitting Nicolas Maduro in the head with a mango, a game app was developed to replicate the fruitful beaning.
The "Maduro Mango Attack" game, available since the end of April in the Google Play store, was created by two Venezuelans who moved to Argentina last year. Over 10,000 people have already downloaded it, attempting to virtually replicate the real deed of a lucky woman, who managed to catch the president's attention in such an unusual way.
READ MORE: 'I respect you, but I don't trust you' – Maduro to Obama
Fernando Malave, one of the game's creators, told AP that the aim of the game is to "relieve some of the daily stress" with the help of humor, "which has always united Venezuelans".
#manguicidio nuevo juego #PegaleUnMangoAMaduro#MaduroMangoAttack@Sororita@soyfdelrincon@MariaCorinaYA RT RT pic.twitter.com/4mo4uLauHa

— elluchador ✌ (@tengomiedoapa) May 2, 2015
In the game, a player has to throw mangos at the constantly moving leader in order to accumulate points. The game's techno beat background is occasionally interrupted by encouragement from a prominent opposition leader.
Special rewards go to those daredevils who attack National Assembly President Diosdado Cabello with a bag full of dollar bills. The reincarnation of the late President Hugo Chavez, represented by a small bird in a red beret, is also a participant. The bird is an allusion to a Nicolas Maduro's revelation that Chavez had "tweeted" him to say he was glad about the way he was ruling the country – a few months after Chavez's death in 2013.
READ MORE: Maduro slams 'psychological war' against Venezuela
Last month, a mango did hit the head of the Venezuelan president while driving a bus through a crowd of supporters in the state of Aragua. A woman, who hurled a mango with her telephone number written on it, asked Maduro to help solve her housing problems.
Hours later, on national TV, Maduro displayed the fruit with a promise to grant Marleny Olivo a new home – and to eat the mango. "Marleny Olivo had a problem with her house. We called her. She was scared. She couldn't believe it was true," he said. "I've approved an apartment for you, Marleny, as part of the Grand Venezuelan Housing Mission."
In the beginning, he actually welcomed the trend, joking that "it's the time of the mango," thus encouraging his supporters to hand in their requests at an event in the city of Valencia.
But recently he has tried to put an end to the quirky practice. At a May Day rally Maduro said "You have to be careful, comrade. Sometimes an expression of kindness can turn into something it isn't intended to be."
#QueNoSeTePase: Mujer golpea con un mango a @NicolasMaduro; le pide casa | http://t.co/hF7kLMcRaQpic.twitter.com/E31elT45tJ

— Noticias (@TerraNoticiasUS) April 24, 2015
At the moment, Venezuela is going through an economic crisis with high inflation and unemployment rates, as well as shortages of basic goods.