Hollande admits arming Syrian rebels in breach of embargo - book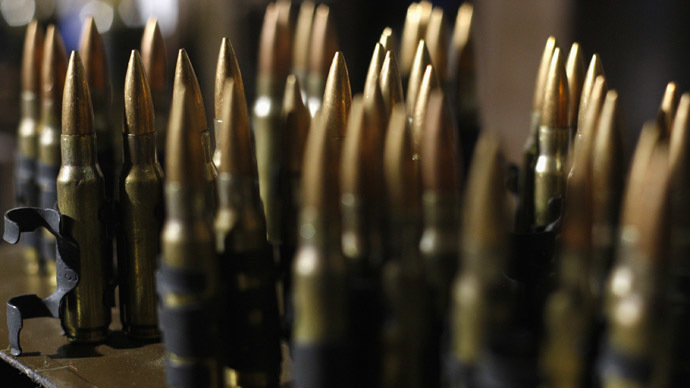 The French president has admitted delivering weapons to the Syrian rebels during a period of EU embargo, a new book about to be published in France reveals.
The deliveries took place in 2012, before the embargo was canceled in May 2013, according to François Hollande's last year interview with journalist and writer Xavier Panon. "We began when we were certain they would end up in the right hands. For the lethal weapons it was our services who delivered them," Hollande told the writer, AFP reports.
Panon used the interview in his book "In the Corridors of French Diplomacy" which comes out in France this month.
READ MORE: Assad: France supporting 'terrorists' in Syria, acts as Washington's satellite
According to Hollande, as cited by Panon, France delivered cannons, machine guns, rocket launchers and anti-tank missiles to the forces fighting Bashar Al-Assad in the protracted Syrian civil war. Earlier, Hollande maintained France only sent weapons to Syria after the embargo was lifted.
In an interview with France 2 TV, President Assad accused France of supporting the same terrorists who carried out attacks in Paris: "Is it democratic to send weapons to terrorists and to support them? So I have the right to support the terrorists who attacked Charlie Hebdo, for example?" he added.
Russian Foreign Minister Lavrov has accused the West of covertly backing extremists to topple the Syrian regime. "Russia condemns the use of extremist groups in efforts to change the regime," he said at a November news conference.
Xavier Panon's "In the Corridors of French Diplomacy" also describes the French government's attack plans for Syria. These included airstrikes against the Syrian regime for its alleged use of chemical weapons in August 2013. One of the targets was a Syrian army intelligence headquarters the French deemed responsible for chemical weapons. These plans never went forward due to lack of support from Washington.
READ MORE: Enduring Syria war: Photographer documents shattered childhoods (IMAGES)
A French political adviser reportedly told Panon that the strikes had two objectives: to change the political order in Syria, and to destabilize Russia and pressure it to change its stance on the Syrian conflict.
The civil war in Syria, now in its fifth year, has claimed over 220,000 lives and displaced millions of Syrians to neighboring countries. Apart from the continuing conflict between the rebels and Bashar Assad's forces, several Islamist groups have used the chaos to try and gain ground in Syria. The Islamic State, the Free Syrian Army and the Islamic Front are in constant skirmishes with the government forces and each other over control of strategic locations.
You can share this story on social media: