Enduring Syria war: Photographer documents shattered childhoods (IMAGES)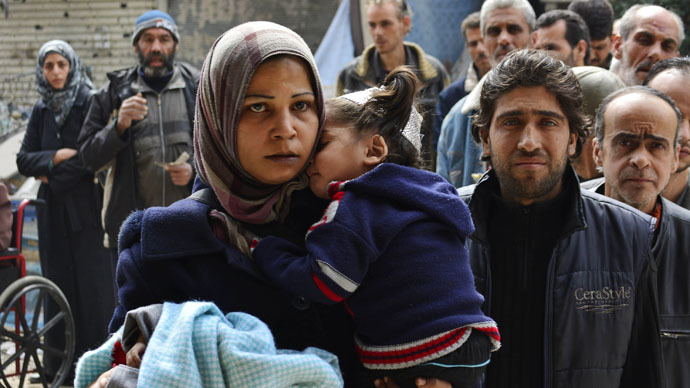 The Swedish photographer Magnus Wennman has documented the suffering that hundreds of thousands of children have to endure in Syria. He spoke to RT about their plight and how he is trying to raise awareness through his photographs.
Many of the youngsters have been forced into refugee camps to escape the violence following the brutal four-year civil war in Syria. However, they have to live with disabilities and physiological difficulties created by the conflict, which has seen the so-called Islamic State, anti-Assad forces and government troops battle it out in the conflict.
"All these stories we journalists and photojournalists are doing – I hope they have an impact on the politicians. My goal is to get people to care and just give an extra thought to these people," he told RT.
Rahma
A photo posted by Magnus Wennman (@magnuswennman) on Mar 13, 2015 at 12:51am PDT
The 35 year-old Wennman originally published a series of photos from the war-torn region for the Swedish newspaper, Aftonbladet, where he works as a staff photographer. Writing on his Instagram page, he mentions a girl called Rhama, who has a sight problem and was originally from Daraa near the Jordanian border. The 10 year-old was initially put in a special school for visually impaired children.
"She liked the school and felt safe in its building. When the war started, the family fled. A hospital along the way offered Rahma an operation, but it was unsuccessful and now she is completely blind," Wennman says.
If living in a crowded refugee camp, where diseases like polio are prevalent, was not bad enough, Rahma describes her everyday life. "I never go out," she says. "I just sit here in the tent."
Jinan
A photo posted by Magnus Wennman (@magnuswennman) on Mar 12, 2015 at 6:39am PDT
The Swedish photographer came across Jinan in the Azraq refugee camp in Jordan. She was carrying water from the well in the huge displacement settlement to the white tent that she now calls home. Jinan does not know her age, but she is just one of almost two million child refugees in camps along the Syrian border.
Shiar
A photo posted by Magnus Wennman (@magnuswennman) on Mar 6, 2015 at 8:24am PST
Shiar has been scarred by the Syrian Civil War for life. The 10 year-old was crossing the border near Kobani in the north of the country. It was the middle of the night and he touched something on the ground, Wennman writes on Instagram. What Shiar touched turned out to be an Improvised Explosive Device. He only has three fingers remaining, while his whole body was covered in scars following the blast.
Maram
A photo posted by Magnus Wennman (@magnuswennman) on Feb 5, 2015 at 10:07am PST
Maram is eight years old and is lying on a hospital bed in Amman, the capital of Jordan. She suffered severe brain injury after a bomb exploded near her home in Syria, which resulted in a portion of the roof falling on top of her. The youngster is one of the few who have managed to cross into Jordan to receive medical treatment to try and improve her condition.
Walaa
A photo posted by Magnus Wennman (@magnuswennman) on Mar 11, 2015 at 3:30am PDT
Speaking to RT, Wennman described the ordeal of a young girl called Walaa.
"For example, we met a five year-old girl, who never used to cry at bed time when she was in her home in Aleppo. But here in the refugee camp, she cried every night. She said resting her head on the pillow was horrible because nighttime is horrible as this is when the attacks happen."
This is what the 35 year-old Swede has tried to convey through his photographs how just carrying out simple actions can be traumatic for children who have had to endure violence in Syria.
"What I wanted to do was to show these children in a situation which people can relate to. It is such a basic thing when someone wants to go to sleep in their own bed and feels safe," Wennman said.
Ahmed
A photo posted by Magnus Wennman (@magnuswennman) on Feb 10, 2015 at 10:50am PST
Ahmed has been blind since birth, according to the Swedish photographer. Despite his disability, the eight-year-old loves to play with the other children in the refugee camp, but he does not dare to go too far from the tent where he lives. His dream is a simple one that hundreds of millions of children around the globe take for granted – just to attend school.
Ralia and Rahaf
A photo posted by Magnus Wennman (@magnuswennman) on Mar 10, 2015 at 3:14pm PDT
Ralia, who is seven and Rahaf, 13, grew up in Damascus. However, the streets of another capital city are now their home. They arrived in Beirut, Lebanon after a grenade killed their mother and brother. They have their father for company, but have had to put up with sleeping on the pavements for over a year.
Rahaf, who is just starting out in his teens speaks about how he is afraid of "bad boys." When he starts to speak about the subject, Ralia starts to cry," Wennman notes.
According to the UN High Commissioner for Refugees (UNHCR), almost four million displaced people from Syria have registered with the organization since April 14. Aid totaling $4.5 billion is desperately needed to help the refugees; however, only $800 million has been raised so far – just a fifth of the sum needed.