100 volcanic quakes at popular Japanese resort prompt tourist warning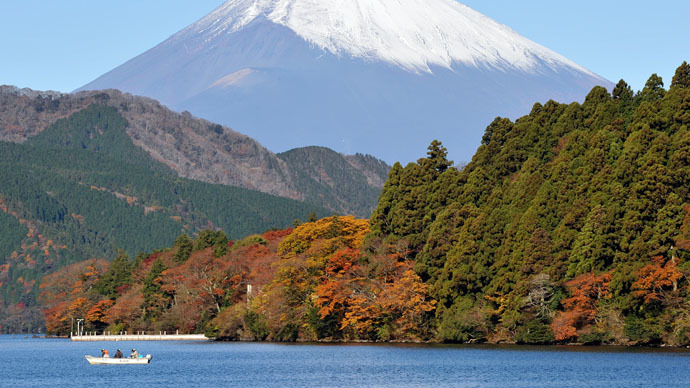 There has been a rise in the number of volcanic earthquakes recorded in Hakone, Japan. The nearby Hakone volcano began belching steaming gas and meteorologists say there is a possible risk of an eruption.
There were two minor quakes registering 2.4 and 2.0 recorded at the Hakone volcano, which is located in the Kanagawa Province and is 80 kilometers southwest of the capital Tokyo. Meanwhile, there were a total of 98 volcanic earthquakes recorded at the popular hot springs resort of Hakone on Tuesday up until 15:00 local time. During the whole of Monday, 34 were logged.
Japan's meteorological agency has issued a warning to limit access to the resort.
5月5日 箱根仙石原「箱根ガラスの森美術館」付近 今朝は雲が多いですが大涌谷がよく見えます。 http://t.co/YmpoELTMDY#yjtenki_kanagawa#hakonepic.twitter.com/CLs1iqCQA1

— 箱根ガラスの森美術館 (@GarasunomoriWeb) May 5, 2015
"Activity at Hakone... is in a state of uncertainty," the agency said in an advisory, which was reported by AFP. "There is a possibility that a minor eruption may suddenly occur," it said. "Please do not enter dangerous zones."
Despite the warning, the agency still believes the risk of the Hakone volcano erupting is minimal. It is maintaining an alert level at 1 on a scale of 5. Level 1 means "normal."
"Shallow hot-water activity in parts of the Owakudani Valley has become unstable," the agency said in an advisory note, which was cited by the Kyodo news agency. "There is a possibility that a minor ejection [of hot steam] may suddenly occur," it said. "Please do not enter danger zones."
#Japan Meteo Agency warns of possibility of volcano #eruptions (or #earthquakes) in #Hakone#Onsen 大涌谷 #Owakudanipic.twitter.com/KXC2rbL0BY

— Joel Legendre Tokyo (@JoelLegendre) May 3, 2015
Local hiking trails are also off-limits as there has been a recent surge in volcanic activity. On May 1, just two volcanic earthquakes were recorded; however this figure has been increasing. There were 36 logged on Sunday and 34 on Monday. The figure spiked on Tuesday.
The warning comes during the middle of Japan's "Golden Week" spring holidays and is likely to affect tourism in the area. Around 20 million people visit Hakone, which is home to some of the country's most famous hot springs.
As #Hakone rumbles, a timely reminder of Japan's disaster preparation drill #volcanopic.twitter.com/W9sHX6vLN9

— Rupert Sutton (@exigomarketing) May 5, 2015
In February 2013, 1,400 small earthquakes were recorded around the Hakone Volcano, but there was no eruption. The last one took place around 3,000 years ago.
In November, Japan's largest active volcano, Mount Aso, started spewing ash and stones, which caused local airlines to cancel flights.
However, the eruption of Mount Ontake on September 27 eventually killed 57 people, which was Japan's worst volcanic disaster in almost 90 years. The search for survivors was eventually called off on October 16.
You can share this story on social media: