High-dive hams: 'Flying pigs show' prompts mixed reaction for Chinese tourism official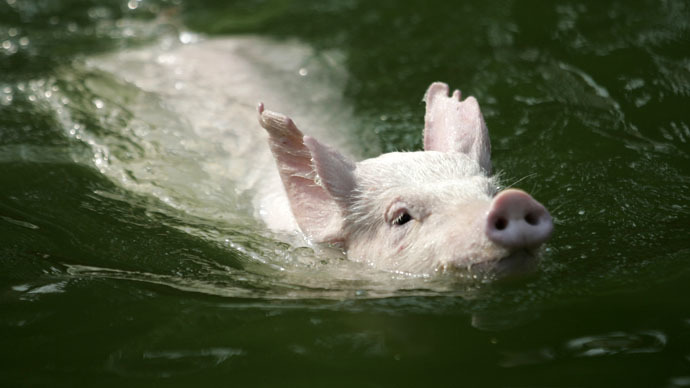 A tourism official in central China has found a new way to attract visitors to Shiyan Lake, inventing a show of… "flying pigs." The event got mixed reaction, with some calling it "animal abuse."
The pigs were taken to a bridge above the lake, with red numbers identifying the participants.
They were then pushed off the bridge with a stick, jumped into the water and swam towards the finish line, cheered on by the crowd.
Groups of tourists stood next to the bridge, taking pictures of the show, according to the local broadcaster CCTV.
You jump, we jump! Now, #pigs have their own #diving and #swimming competition.Ten well-trained pigs took part in a...Posted by CCTVNews on 3 Май 2015 г.
Tourism official Shi Huang, who organized the event, has been criticized by sections of the public.
The majority of the comments under the CCTV photo negative, with some viewers describing the event "disgusting" and "nauseating."
"This was clearly animal abuse. It may well be the case that pigs like water, but not jumping into it from the top of a huge platform," one viewer wrote online.
However, Shi defended the show, saying the pigs were "carefully trained to perform this special stunt," plus they had been "well-rewarded with food."
"Anybody who says it is cruel is clearly not well-informed that pigs like water. And once they got over their nerves they clearly enjoyed it," he added.