7.4 quake, aftershocks hit Papua New Guinea prompting tsunami scare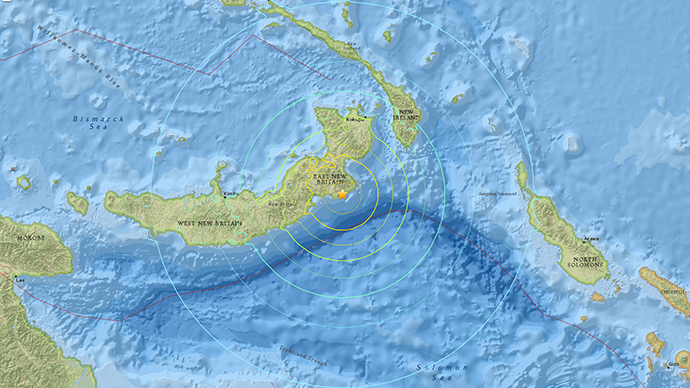 A strong 7.4-magnitude earthquake struck the southern coast of Papua New Guinea, US Geological Survey reported. A tsunami warning was issued for an area within 300 km of the epicenter, including the Australian coast, before being downplayed.
READ MORE: 5.6 magnitude quake strikes New Zealand
A large temblor registered 133 kilometers (83 miles) south-west of Kokopo, according to USGS. The revised data showed the epicenter to be 63 kilometers under the coast of New Britain island.
Prelim M7.4 earthquake NEW BRITAIN REGION, P.N.G. May-5 01:44 UTC, updates http://t.co/WFuj9jHhVz

— USGS Big Quakes (@USGSBigQuakes) May 5, 2015
The quake was followed by a 5.9-magnitude aftershock just 10 minutes later. The series of aftershocks continued with 5.6 and 5.2 tremors.
The Pacific Tsunami Warning Center (PTWC) issued a preliminary warning message immediately after the first tremor, saying that "hazardous tsunami waves are possible for coasts located within 300km of the earthquake epicenter."
tsunami threat wihin 300km of the epicenter where M 7.5 earthquake occured. pic.twitter.com/MeS8yTjDXL

— Radio World (@radioworldsv) May 5, 2015
The warning estimated that a tsunami wave could reach the Australian city of Cairns at 5:10 UTC and Brisbane at 6:07 UTC
There were no immediate reports of serious structural damage or casualties and the coastline around the epicenter of the quake is sparsely populated. Two lower-magnitude tremors were registered in the area last week, but the Tuesday quake was considered more alarming due to it being shallow.
In Kokopo, severe shaking of buildings caused people to rush into streets in panic, according to local media. Twitter reports also said tremors were felt in the capital city of Port Moresby, which is 700 kilometers away from the epicenter of the quake.
Can report severe building swaying in Port Moresby but no noticeable damage at this stage. @NZStuff

— Andrew McLean (@AndrewMcLeanNZ) May 5, 2015
PTWC has revised the initial warning, saying that tsunami waves reaching 0.3 to 1 meter above tidal level were expected only on some coasts of Papua New Guinea.
#PNG 7.4 mag earthquake south of New Britain, tsunami warning. @PNGLOOP on damage in Kokopo. http://t.co/XBaS0TWd9Xpic.twitter.com/ilNrXXLHfk

— Stefan Armbruster (@StefArmbruster) May 5, 2015
READ MORE: 1,000 EU citizens missing after Nepal earthquake, 12 confirmed dead – ambassador
You can share this story on social media: