5.6 magnitude quake strikes New Zealand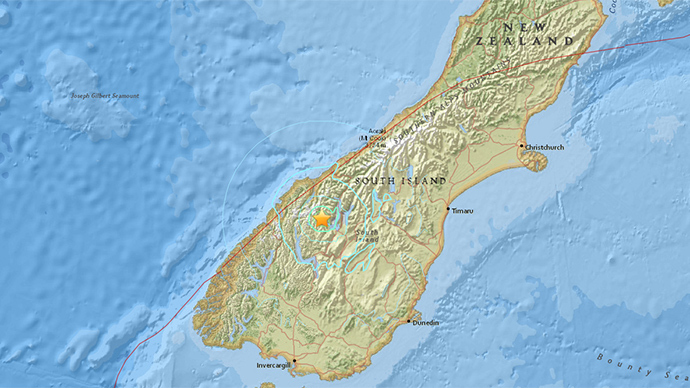 A 5.6 magnitude earthquake has struck 30km north west of Wanaka, on the South Island of New Zealand. Hundreds of people felt tremors, registered by the local geological hazard information service as "severe."
There were no immediate reports of damage after the initial quake struck at 2:29pm local time. The USGS registered the depth of the quake at 10km.
Quake 30 km north-west of Wanaka, intensity severe, approx. M6.0, depth 5 km http://t.co/94KdxuHnuN Mon May 4 2015 2:29 PM (NZST)

— GeoNet (@geonet) May 4, 2015
A second and lighter 3.4 tremor followed about 10 minutes later. It was located 20km west of Wanaka at a depth of 11km.
6.0mag earthquake in #Wanaka#eqNZpic.twitter.com/nepZFTLdPK

— Bel Jones (@BelJones_) May 4, 2015
"It gave us all a bit of a shock," Wanaka Tourism Office general manager James Helmore told Fairfax NZ News, as shaking persisted for some 15 seconds.
Scary shaking on 3rd floor of FB stadium in dunedin, hope Central Otago is ok #eqnz

— VeroniqueO (@VeroniqueO) May 4, 2015
"There may be some minor damage in plastering" he said, but there was none he could see at that moment.
Local media is also reporting evacuation at the Wanaka Puzzling World attraction park.
Felt reports for #eqnzhttps://t.co/H9Sjih6B75pic.twitter.com/7Xfa0xStVL

— Koen ✈️ (@Koennz) May 4, 2015
"It was significant, we evacuated quick because we didn't know whether it was going to get worse," Heidi Landsborough of Puzzling World said. "It was a bit difficult because we had a few people who thought it was part of the experience."
Police advise there have been a small number of broken windows but no major reported incidents after the earthquake near Wanaka. #eqnz

— Hamish Clark (@Hamish_Clark) May 4, 2015
GeoNet geohazards information manager Kevin Fenaughty told Fairfax NZ News that no structural damage is expected as a result of this earthquake. Moderate shaking was also felt in Dunedin, Alexandra and Queenstown on the South Island.
New Zealand partially lies on the eastern margin of the Australia plate which is one of the most seismically active areas of the world, due to the convergence of the Australia and Pacific plates.
You can share this story on social media: