ISIS accused of mass-murdering 'hundreds' of Yazidi captives in Iraq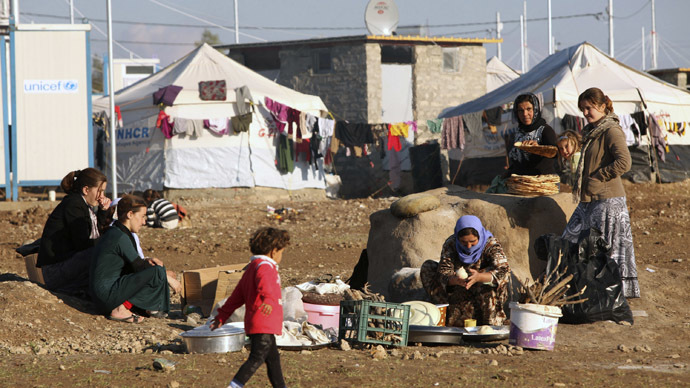 ISIS jihadists have reportedly executed up to 600 Yazidi hostages, including many women and children, in the Tal Afar district in northern Iraq, according to local media and Kurdish sources.
The mass executions have been taking place some 50 km from Mosul since Friday, according to a local official from the Kurdistan Democratic Party (KDP), Hassan Khallo. He told Kurdish news agency BasNews that the terrorists have been bringing their prisoners, including many women and children, into one place.
"IS (Islamic State, formerly ISIS) gathered them in one place and shot them altogether," Khallo said. "Along with the the Yazidis, IS militants killed a number of Shi'ite people as well."
READ MORE: ISIS 'execute' 1,700 Iraqi soldiers, post gruesome pictures (GRAPHIC)
The brutal execution of prisoners from the Yazidi community of the Sinjar Mountains was carried out by the Sharia Court of the Islamic State group, ARA news reported.
"A new crime was committed by Daesh [Islamic State] against our Yazidi people on Friday," Aseel al-Nujaifi, governor of Nineveh province in Iraq, confirmed. "IS gangs executed hundreds of innocent Yazidi prisoners."
Nujaifi was quick to point out that ISIS is "degrading" Islam with their brutal crimes, as he called on the Muslim cleric community expose IS's heresies.
The Yazidi Progress (al-Taqadom) Party confirmed the mass murder, however stating a lower death toll of about 300 people. The statement released on Saturday condemned the "heinous criminal act."
The group called on the international community and the Iraqi government to intervene and secure the release of remaining Yazidi hostages, thousands of whom are still in captivity since IS first raided their villages last summer.
Meanwhile Shahin Shingali, a fighter in the ranks of the Peshmerga forces, told ARA news, that without direct intervention from the West, Iraq see further "genocides" against innocent people.