EU may take France to court over high air pollution levels
Published time: 1 May, 2015 07:02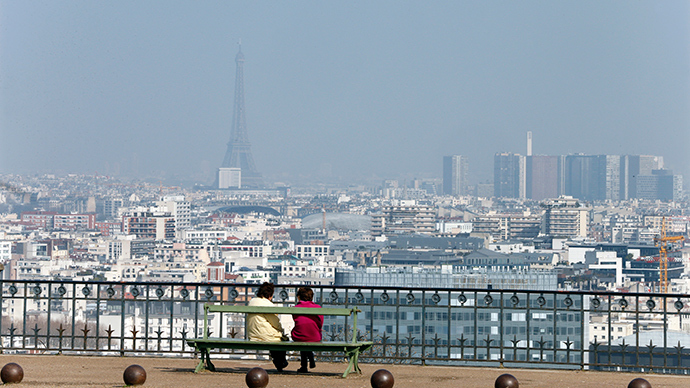 France may appear in the European Court of Justice in just two months if the country's authorities fail to tackle high levels of air pollution in 10 areas, including Paris, the European Commission has warned.
"The European Commission has asked France to comply with EU legislation requiring Member States to limit citizens' exposure to fine dust particles (PM10) by defining specific limit values to be observed," the commissionsaidin a statement on its website on Wednesday.
These tiny particles are some of the most dangerous to public health and can cause asthma, allergies and other respiratory ailments.
Good morning #paris#smog. Gonna take my #velib for free today! pic.twitter.com/1FFlSkAtlI

— Tanja Schreiner (@TanjaScr) March 17, 2015
Estimates from French authorities show "that the air pollution problem persists," according to the EU body. Maximum daily limits have been recorded in 10 zones, including Paris, Marseille, Lyon and Nice.
"The Commission considers that France has failed to take measures that should have been in place since 2005 to protect citizens' health, and is asking it to take forward-looking, speedy and effective action to keep the period of non-compliance as short as possible."
If France "fails to act within two months, the Commission may take the matter to the EU Court of Justice," they concluded.
READ MORE: City of Lights dimmed: Paris bans 50% traffic due to heavy smog
The Commission added that it's also taking France to court "for not complying with EU legislation on urban waste water treatment."
"Untreated urban waste water can endanger the health of European citizens and the environment."
In March, Paris was gripped by massive smog and the authorities introduced emergency traffic restrictions. Half the capital's drivers were temporarily banned from the streets.
A map of air quality in Paris and other French towns often shows that numerous locations are smog-bound and have dangerous level of particles.