​Ukraine takes steps to replace Russian news channels with 'tasteful erotica'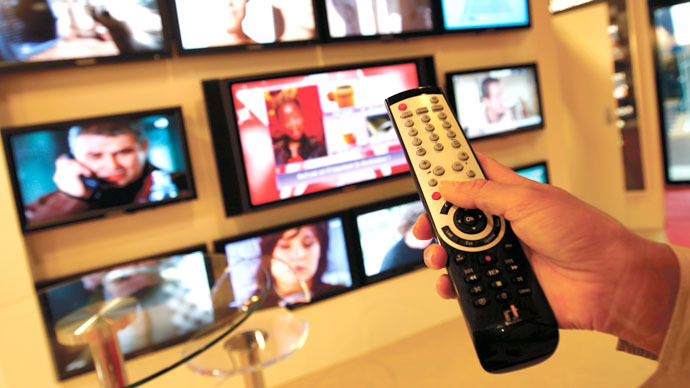 Cash-strapped Ukraine is considering issuing licenses to several adult broadcasters to make up the financial shortfall resulting from the ban on Russian television channels.
"We've received applications from several erotica channels. I am emphasizing, these are erotica - not hardcore porn. We are evaluating these applications," said Yuri Artemenko, the head of the national broadcasting council, according to RBC Ukraine, a financial news channel.
"We understand that in the difficult conditions of doing business since the banning of Russian broadcasters, these are an additional means of survival, particularly for cable providers."
Artemenko said that cable companies and broadband providers have composed a "voluntary memorandum" to avoid broadcasting "content that could be harmful to the development of minors."
"The transmissions on these channels will be encoded all day, apart from midnight to 4 am, when children should be asleep," Artemenko told the media in Kiev.
Artemenko said the memorandum will be signed on May 15, with licenses to be issued after that date.
Ukraine banned Russian channels in several waves following the secession of Crimea in March 2014 and the subsequent intensification of the fighting in the east of the country, accusing them of being a propaganda arm of the Kremlin.
READ MORE: Kiev orders crackdown on Ukrainian providers broadcasting Russian TV channels
Even re-broadcasting in hospitals and receiving signals in the border regions falls under the prohibition, though rebels in Donetsk and Lugansk actively encourage Russian broadcasts. A number of Ukraine-based Russian language channels is still transmitted throughout the country.
Ukraine has used other blunt instruments to insulate itself from Russia's pervasive cultural influence, banning a handful of films propagating Russian values, including those shot decades ago. All films featuring several prominent Russian actors who have supported Russia's anti-Kiev stance have also been banned
Artemenko also said that the French channel, Euronews, would be allowed to broadcast under a new license "after promises that they will not produce political content," despite several scandals which have rocked the French channel over the last several months over both its purported pro-Russian content and its shadowy licensing agreements. The local-language version of the US channel MTV, which was in operation in Ukraine between 2007 and 2013, would be re-issued a license.