Social media savvy? Iran's supreme leader beats 15-second Instagram policy
Published time: 30 Apr, 2015 07:43
Edited time: 30 Apr, 2015 07:43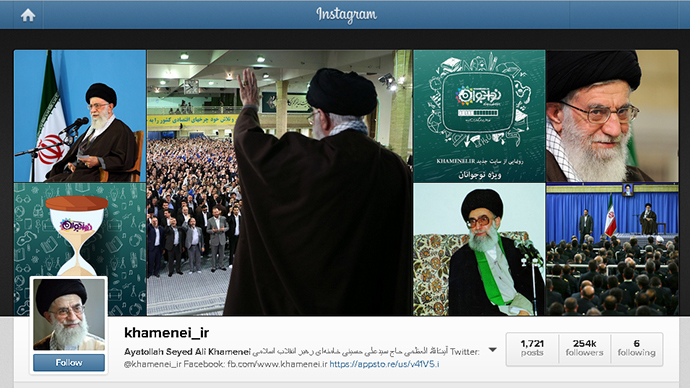 Iranian media users have been wondering how their supreme leader, Ayatollah Khamenei, manages to post Instagram videos exceeding the maximum time limit. It turned out it wasn't because his speeches are so eloquent. The problem lies in a computer bug.
Social media platform Instagram introduced a 15-second restriction on any video that users can post on their website in 2013. However, Iranian Supreme Leader Ayatollah Ali Khamenei placed several videos of his speeches lasting as long as 91 seconds.
@khamenei_video Video time: 91sec طرف مقابل با وقاحت؛ مرتب ما را تهدید نظامی میکنند؛ این غلط اضافی را میکنند بعد میگویند جمهوری اسلامی توان دفاعی نداشته باشد! ۱۳۹۴/۱/۳۰ __________ Ayatollah Khamenei: The other side issues #military_threats against us with complete shamelessness. They constantly issue military threats. For some time, they were quiet, but a few days ago, one of them opened his mouth and talked about the options that are available on the table - specifically, the military option. Well, they use this #bluff and make this extravagant claim, then they say that the #Islamic_Republic should give up its defense power. Is what they say not foolish? Even if they had not threatened us so #outspokenly, it would have been necessary for us to think of "Against them make ready your strength to the utmost of your power". Even if they had not threatened us, we should have taken care of this and #increased our #preparedness- let alone now that they are threatening us outspokenly. 19/04/2015 • • #IranTalksVienna #Irantalks #nukes #rahbar #khamenei_ir #supremeleader #خامنئي_دات_آي_آر #رهبر #خامنه_ای #آرامش_امت #الخامنئي #رهبری #خامنئی_دات_آی_آر • •
In his videos, he addresses the Iranian people and speaks on the nuclear deal, relations with Saudi Arabia and other issues.
The 'amazing gift' of the Iranian supreme leader was noticed by journalist Pouria Zeraati from Manoto 1, an international Persian-language general entertainment channel. He asked on his Twitter account how Khamenei managed to bypass strict Instagram policies.
How does #Khamenei post long videos to #Instagram ? #ManotoNews#Manoto

— pouria zeraati (@pouriazeraati) April 26, 2015
"Dear leader, can you give us the magic code?" one user wrote on Twitter, following Zeraati's joke.
It turned out that 75-year-old Khamenei was able to post his long speeches on Instagram not became he is a supreme leader of Iran, or because he talks about the much-discussed nuclear deal. It was simply down to a computer bug.
"We recently became aware of a bug that allowed some users to post videos to Instagram that are longer than 15 seconds. We worked quickly and fixed the bug," Instagram told the Guardian.
Nevertheless, Khamenei's long videos remain in his Instagram account, despite the company's statement.
@khamenei_video #کلید حل #مشکلات_اقتصادی در #لوزان و #ژنو و #نیویورک نیست، در #داخل_کشور است. ١٣٩٤/٢/٩ • • The key to solving #economic problems isn't in #Lausanne, #Geneva or #NYC but inside #Iran 29/04/2015 • • الإمام الخامنئي: مفتاح حل المشاكل الإقتصادية لا يكمن في لوزان وجنيف ونيويورك بل في داخل البلاد. 29/04/2015 ________ • • • #IranTalksVienna #Irantalks #nukes #rahbar #khamenei_ir #supremeleader #WorkersDay #خامنئي_دات_آي_آر #رهبر #خامنه_ای #آرامش_امت #الخامنئي #رهبری #خامنئی_دات_آی_آر #بايد_قوي_شويم #ما_ميتوانیم #ما_ميتوانيم #مذاکره #مذاکرات • • •