Polish mayor moves to demolish Soviet-era monument
Published time: 29 Apr, 2015 20:17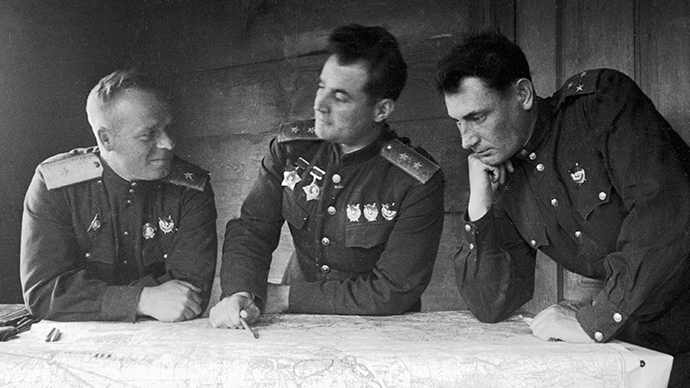 The mayor of the Polish town of Pieniezno is asking regional authorities to permit the dismantling of a local monument to a Soviet Army World War II general.
General Ivan Chernyakhovsky was one of the leaders of the Soviet campaign against Nazi Germany. He died in February 1945 after suffering a lethal wound in combat.

The monument had been erected near the spot of General Chernyakhovsky's death in 1970.

Some in Poland refer to Chernkyakhovsky as the 'Executioner of the Home Army'. The Home Army was the main Polish resistance movement during the World War II Nazi occupation. The head of Poland's Council for the Protection of Struggle and Martyrdom Sites accuse Chernyakhovsky of taking part in the elimination of the local Home Army command structure.

The Council argues that the existence of a monument to him goes against Polish "national interests", local media report.

The final decision on whether to remove the monument will be taken at the end of May.

The Polish side is proposing that once the monument is dismantled, it should be moved to Russia. The other option authorities are considering is to place it in a Soviet military graveyard.

"If the Russian side will not negotiate, then it is possible that the monument will be placed in one of the storages. As for Poles, this object is equivalent to scrap metal," the town's mayor was quoted as saying by wPolityce TV.

In the past there have been numerous documented instances of this monument being vandalized.

Russia has repeatedly spoken out against plans to eliminate the monument and considers the proposal to transfer the monument "unreasonable". Moscow insists on holding joint consultations in line with the 1994 Agreement between two countries on the graves and places dedicated to the memory of victims of war and repression.
General Chernyakhovsky was the youngest Soviet front commander, twice Hero of the Soviet Union and Commander of the 3rd Belorussian Front. He died from wounds received outside Konigsberg, now Kaliningrad, at the age 38.

The Times magazine called him the "iron-muscled and iron-willed" young general.

According to his relatives the news of his death prompted Winston Churchill to send a message of condolences to Joseph Stalin.

Chernyakhovsky was buried in Vilnius, Lithuania but after the fall of USSR his remains were reburied at the Novodevichy Cemetery in Moscow.