ISIS claims issue of first 'official' birth certificate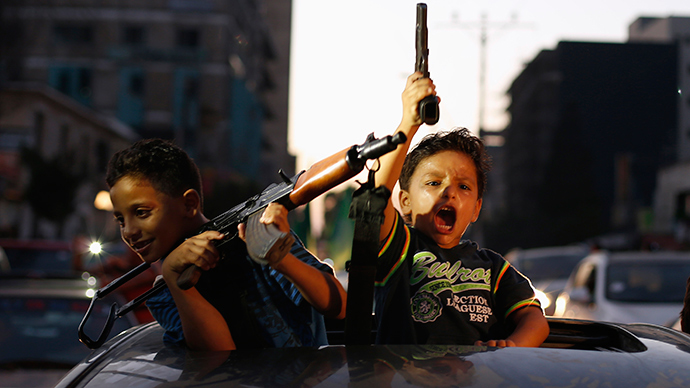 A picture of a 'babe in arms' has been published on Twitter, depicting an infant with a gun, grenade and… allegedly the very first Islamic State birth certificate. The authenticity of the photo has not been confirmed by independent sources.
The first #ISIS birth certificate. pic.twitter.com/SC50RtLczx

— Jack dawkins (@jackADdawkins) April 26, 2015
"[T]hese groups want to show they have total control of subjects and are indoctrinating them from a very young age," Charlie Cooper of the London-based Quilliam Foundation told the Independent.
Children who happen to live on the territory controlled by the Islamic State (IS, formerly ISIS) are used to serve the jihadist cause quite often. Photos of children dressed in military uniforms and holding all kinds of handguns has become sort of ordinary thing over the internet.
Frightening and abusive, ISIS Trains Children #tcot#ccot#pjnethttp://t.co/TMpv93ApFN

— Dawn (USMC Mom) (@3Quarters2Day) April 17, 2015
The IS is abducting and brainwashing children into joining their group, says a UN children's representative. The organization says the militant faction is looking to "foster a new generation of supporters," amongst young Syrians and Iraqis. The underage are even being taught to kill captives while elders are filming the barbarity in order to publish it later over the internet and scare the 'enemies of Islam'.
READ MORE: ISIS releases video of child executing 'Israeli spy'
Some time ago a photo of a little boy holding human head could be found over the web. The photo of an 'armed' infant appears rather innocent in comparison.
READ MORE: ISIS releases moms' guidebook to raising 'jihadi babies'
On the territories occupied by the IS in Iraq and Syria, the group is striving to establish 'real' governmental structures, resembling the social institutions of a true sovereign state. Less than a week ago the jihadists allegedly launched a kind of public health organization dubbed Islamic State Health Service or ISHS.
READ MORE: Islamic State Health Service? ISIS launch British-inspired NHS
A young Australian doctor, who appeared in an Islamic State propaganda video holding newborn child, has called on medical "brothers and sisters" from around the world to come to Syria to join the "Jihad for Islam" against the West.
READ MORE: Aussie doc says ISIS needs medical 'brothers & sisters' in 'jihad' against West
Affective solicitude of the health of the IS 'citizens' goes hand in hand with mass murder, decapitation and chopping-off hands in full accordance of the sharia law.
The last time a staged mass murder video was made public occurred on April 19, when the IS' media arm, Al-Furqan, released filmed and edited a short clip of the execution and beheading of some 30 Ethiopian Christians in Libya, right on the Mediterranean shore.
You can share this story on social media: