​Bin Laden-linked terror cell planned Vatican attack – prosecutor
Published time: 24 Apr, 2015 14:44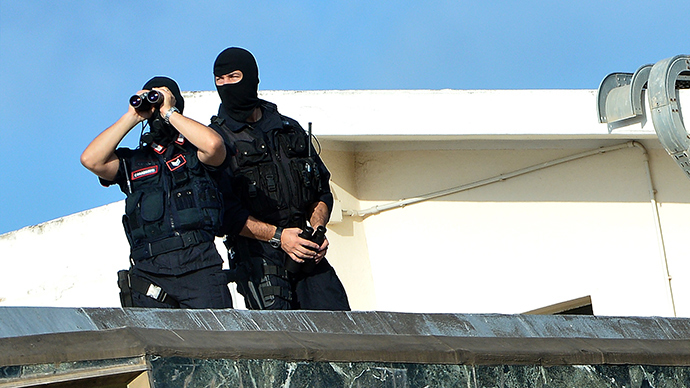 Italian police have issued 18 arrest warrants for Sardinia-based terror suspects with Al-Qaeda links who may have been planning an attack on the Vatican. Two of the alleged jihadists are believed to be former bodyguards of Osama Bin Laden.
A terrorist cell is believed to have been exposed on the Italian island of Sardinia. Most of the suspects have come to Italy from Pakistan and Afghanistan, police report, as the counter-terrorist operation continues.
"We don't have proof, we have strong suspicion," said Police Chief Mario Carta, referring to the allegations the terror-cell planned an attack on Vatican.
Nine people were arrested in anti-terror raids on Friday, with the operation in total covering seven Italian provinces.
Wiretaps indicate that the suspects were planning to carry out a bomb attack on the Holy See in March 2010, Prosecutor Mauro Mura told a press conference in Cagliari, Sardinia.
READ MORE: Pope Francis calls to end 'barbarous violence' & bloodshed in global hotspots
He said that, in the intercepted phone calls, the suspects were heard saying they would launch a "big jihad in Italy," according to Reuters.
According to Mura, there had been "signals of some preparation for a possible attack," with a suicide bomber reportedly arriving in Rome.
Local media reported two of the suspects were 'Osama Bin Laden's bodyguards'.
Some of the suspects are believed to have been behind terror act in an October 2009 terror attack at a busy market in Peshawar, Pakistan, which claimed lives of over 100 people. A car packed with explosives was used by the terrorists back then. Other attacks of the members of Sardinia cell targeted American troops in Afghanistan.
The group was using the Hawala money transfer system to finance terrorism outside Italian borders and is believed to have been recruiting newcomer immigrants to get them involved in illegal activities.