Washington started all modern military conflicts - Russia's General Staff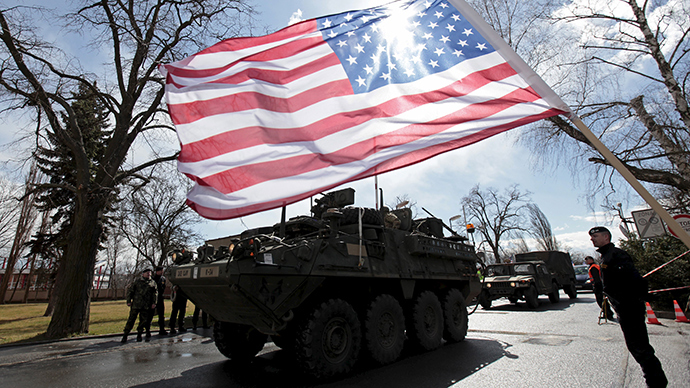 The US is the sole initiator of all modern military conflicts, maintains Russia's top brass, adding that Washington and its allies have used military force against third parties over 50 times in a matter of just one decade.
The central focus of the American administration has been consistent containment of Russia to prevent alternative center of power emerging, said Lieutenant General Andrey Kartapolov, head of the Main Operation Directorate of Russia's General Staff.
In January, Russian President Vladimir Putin warned the support that Washington provides to the Kiev authorities and Ukrainian army is aimed at "achieving the geopolitical goals of restraining Russia."
READ MORE: Putin: Ukraine army is NATO legion aimed at restraining Russia
US military instructors in E. #Ukraine combat zone: Russian military claims, US denies http://t.co/G9AChUnOgdpic.twitter.com/uoMwYFS8Oq

— RT (@RT_com) April 23, 2015
Now the US has deployed hundreds of military instructors to Ukraine to train troops. Yet Russia's Defense Ministry spokesman Major General Igor Konashenkov accused Washington of sending its soldiers not to training ranges, "but directly in the combat zone near Mariupol, Severodonetsk, Artyomovsk and Volnovakha."
READ MORE: US military instructors in eastern Ukraine combat zone – Russian military
"The US appears to be the ultimate instigator of all military conflicts in the world. The Western countries have begun to hold themselves out as 'architects' of the international relations system, leaving to the US the role of the world's only superpower," Kartapolov said at a military-scientific conference dedicated to the 70th anniversary of Russia's victory in WWII.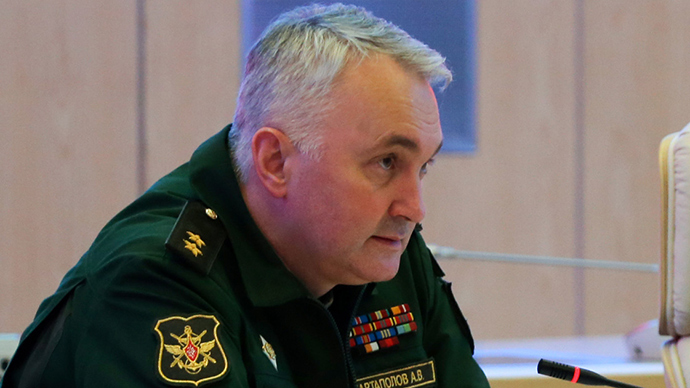 In September 2014, RT reported that although the US has not declared war since 1942, Syria became the seventh country that Barack Obama, the holder of the Nobel Peace Prize, has bombed in the years of his presidency.
READ MORE: O, bomber! Obama bombs 7th country in 6 years
Since that recent campaign, US allies in the Persian Gulf, Sunni monarchies armed primarily with American-made weapons, launched a military offensive against Shiite Houthi rebels in Yemen, bombing out country's military depots and infrastructure.
READ MORE: Operation 'Decisive Storm' in Yemen ends, new phase underway - Saudi-led forces
Kartapolov stressed that this position of the west has been officially spelled out in the US national security strategy, presented to American Congress by Obama on February 6.
The course being pursued by the White House is determined by strategic ambition to keep the leading geopolitical and economic positions, Kartapolov said.
And it appears there's no cost Washington is unwilling to pay to retain its international position. In early March, Fox News Channel aired a segment featuring Robert H. Scales, a former United States Army major general, who shared his own plan to settle the Ukrainian crisis. The recipe is simple: kill the Russian soldiers allegedly roaming eastern Ukraine.
READ MORE: Fox News analyst: 'Start killing Russians' to save Ukraine (VIDEO)
Russian military general #Sidorov says #US, West wage first phase of hybrid war on #Russia! http://t.co/6WNFJx0MQJpic.twitter.com/VoPizAPYXa

— Enrico Ivanov (@VonHenrick1) April 24, 2015
Countries once invaded or interfered with by the US and its allies, be it in Afghanistan, Iraq, Libya, Yemen, Pakistan, Somalia or Syria, have become hotbeds for extremists linked with various offshoots of Al-Qaeda, the Islamic State (IS, formerly ISIS/ISIL) and similar groups.
READ MORE: Syria, Iraq turned into 'international finishing school for extremists' – UN report
Speaking on the use of military force, Kartapolov recalled that "on six occasions [US-led military] operations have been conducted with decisive intentions and have outgrown into armed regional conflicts."
"Their deplorable results are known all too well," the general concluded.
You can share this story on social media: