​Hot shot: Reporter at Siberia wildfires creates fire hazard 'for background pics'
Published time: 23 Apr, 2015 17:27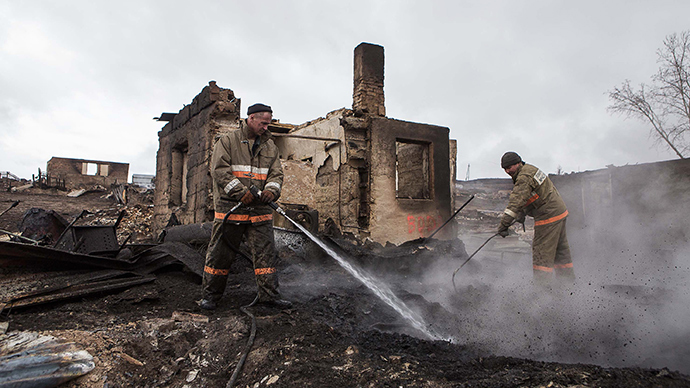 Russia's major Channel One correspondent covering massive wildfires in Siberia is accused of setting dry grass ablaze for a nice shot for his report.
Journalists may go at lengths to get a good story - as in 2009 in Brazil, where television presenter Wallace Souza was accused of hiring hit men to kill people in order to boost the ratings of his TV program. Now, Mikhail Akinchenko, sent to Khakassia in Siberia to cover wildfires, may join these ranks.
Since 12 April, devastating wildfires have raged over an area of more than 150 000 hectares (371 000 acres) in Siberia – 34 people have been killed and more than 600 injured.
President Vladimir Putin visited Khakassia on April 21, while the State Duma introduced a bill to ban dry grass burning. Farmers at times put dry grass on fires as they believe this will improve the fertility of the soil. This is considered one of the major causes of the calamity in Siberia.
Meanwhile, Mikhail Akinchenko went to Khakassia to cover the situation.
Журналист Первого канала Акинченко поджёг траву в Хакасии, чтобы «снять фон» http://t.co/rv80kTS5Xbpic.twitter.com/KaXv81mFtd

— залесский (@igiss) April 23, 2015
Following his arrival, a local resident appealed to police, claiming that the correspondent had thrown a lit cigarette butt on the grass, Khakassia news agency reports. The incident happened near the urban-type settlement Kolodezny in windy weather.
Akinchenko apparently set dry grass ablaze to "record a necessary background shot" for his report, says the Khakassia agency.
Channel One PR-director Larisa Krymova confirmed the report and promised the correspondent will be punished for his negligence. However, she maintains Akinchenko did it unintentionally – simply forgetting to stub out his cigarette.
"Idiots! Just idiots! Of course, he'll be punished! One must have a head screwed on the right way, one must understand, what he or she is doing. He is a good correspondent as well as a good person. But one must always use his noggin! Of course, he'll be punished, but not fired," Kirill Kleimenov, Channel One deputy director general and a head of news program department, told the Russian News Service.
He did not specify, however, exactly how the journalist would be punished.