​DNA-disaster or medical miracle? Chinese researchers modify human genome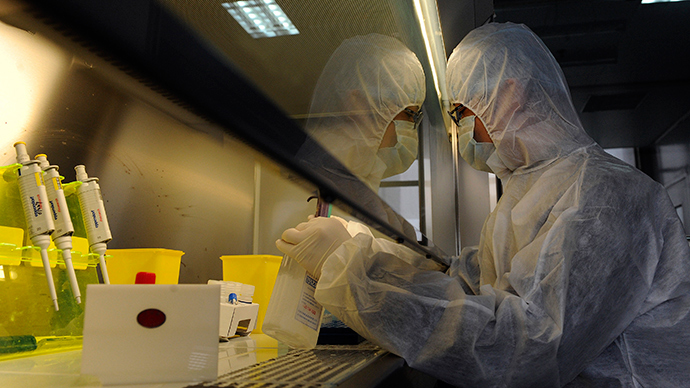 For the first time ever, Chinese scientists report having successfully edited human embryos' genomes. The breakthrough has, however, also revived heated debate about the ethical feasibility of such experiments, which are feared to lead to eugenics.
The 16-person team of researchers was based at the Sun Yat-Sen University in Guangzhou, China, and led by Junjiu Huang, a gene-function researcher. They tried to find out if they could cure the gene defect that causes beta-thalassemia (a genetic blood disorder that could lead to severe anemia, poor growth, skeletal abnormalities and even death), by editing the germ line.
For that purpose they used a gene-editing technique based on injecting embryos with a complex, which consists of a protective DNA element obtained from bacteria and a specific protein.
The scientific team used only "non-viable" embryos obtained from local fertility clinics, "which were abnormal and could not develop in a baby," Huang noted.
The open results of the study were published in the online Journal Protein & Cell after two international scientific Journals – English Nature and American Science – had refused to publish it due to the ethical reasons, Huang said.
Some experts say that an embryo gene editing technique could have a bright future as it could help to eradicate devastating genetic diseases before the baby is even born.
Others worry that such technology is unethical and even dangerous, because it can wreak unknown havoc on the human genome, which is heritable. This also might open a slippery slope to unsafe use of the technique.
READ MORE: First European baby born using revolutionary genetic disease-screening technique

"I believe this is the first report of this gene-modifying technique applied to human pre-implantation embryos and as such the study is a landmark, as well as a cautionary tale," George Daley, a stem-cell biologist at Harvard Medical School in Boston, comment on the results of the Chinese research.
"Their study should be a stern warning to any practitioner who thinks the technology is ready for testing to eradicate disease genes," he told Nature.
"The ubiquitous access to and simplicity of creating such DNA and protein complex creates opportunities for scientists in any part of the world to do any kind of experiments they want," Edward Lanphier, president of Sangamo Biosciences in Richmond, California, says.
"It underlines what we said before: we need to pause this research and make sure we have a broad-based discussion about which direction we're going here," he adds, as quoted by Nature.
Ethics is not the only concern of the researchers. According to Nature, the Chinese team admits its results reveal serious obstacles to using this technique in medical practice, and the problem lies in the nature of the method.
READ MORE: Mammoth step forward? Scientists splice Woolly DNA into elephant cells

The DNA and protein complex, which is used in the research, is programmed to target a specific problematic gene, which is then replaced or repaired by another molecule introduced at the same time. Such method is based on successful tests on adult human cells and animal embryos.
However, after injecting 86 embryos and testing 54 of the 71 surviving the researchers found that genomes of only 28 had been successfully edited. Such low success rates are likely to mean that the procedure cannot be used in medicine.
"If you want to do it in normal embryos, you need to be close to 100 percent," Huang told Nature. "That's why we stopped. We still think it's too immature."
In addition, the gene-editing also affected other parts of the genome, leading to its mutation. In case of human embryos such "unprogrammed changes" were much more frequent than in previous experiments on adult human cells and animal embryos.
Huang notes that his team likely only detected a subset of the unintended mutations because their study looked only at a portion of the genome, and not a whole one, according to Nature.
Meanwhile, new rumors claim at least four groups in China are conducting research in the field of gene modification without unveiling the nature of their work. And MIT Technology Review claims that also one US genetics center is doing similar work, but keeping it secret.