​'Halal' sex shop for Muslims to open doors in Mecca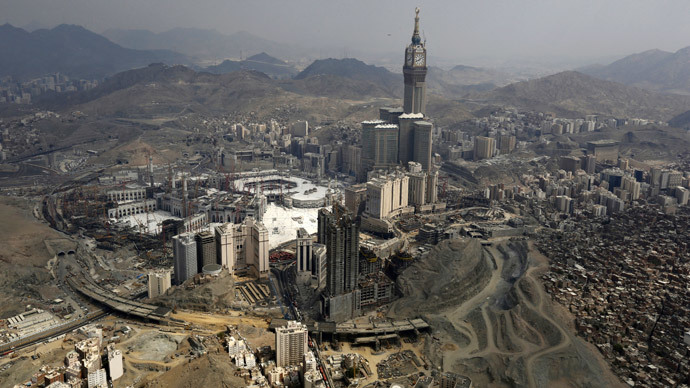 A sex shop will soon reportedly see the light of day in Mecca – the last place anyone would have thought possible, for an establishment of this sort.
UPDATE: 'Halal sex shop' owner denies opening store in Mecca
The 'halal' sex shop is the brainchild of one Abdelaziz Aouragh, who announced his intentions last year, but is only now "almost" ready to open his doors. He claimed to AFP that one Saudi cleric said the idea could lead to an "improvement of the sexual relationship between husband and wife."
The establishment is going to sell a range of 18 'halal' toys. But it won't just be any shop – it will only strictly cater to Muslims in Mecca, Aouragh told Morocco-based news website Alyaoum24.
READ MORE: 'No pork or alcohol': Top London hotel being run under Sharia law?
The owner already runs an online shop in Amsterdam, called El Asira. It opened in 2010 and was an instant hit with the Netherlands' Muslim population, achieving "70,000 hits in the first four days," as Aouragh told the Telegraph back then.
Another establishment by a different businessman opened up in Turkey in 2013. A range of products, from aphrodisiac oils to lubricants, was on sale in the online store.
For his Mecca project, Aouragh is going to enlist the help of German company Beate Uhse. The brand is one of the biggest retailers of sex toys in Europe and it already cooperates with Aouragh's Dutch firm.
Don't get your hopes up too fast though, if you're a woman: no vibrators will be sold at the store, as those aren't approved by Islam.
"Our products do include items that increase feelings of sensuality and improve the atmosphere between the couple in the sexual relationship between them," Aouragh explained.
Saudi Arabia has become known for its association for the strictest brand of Sunni Islam practiced by an existing state. However, Muslims note that the Prophet Mohammed was supportive of a healthy sexual life when it involves a husband and wife, which isn't that different to Christianity. Mohammed even told men not to leave home for a period of longer than six months, so their wives do not feel sexually abandoned.
You can share this story on social media: