'Maidan snipers trained in Poland': Polish MP alleges special op in Ukraine to provoke riot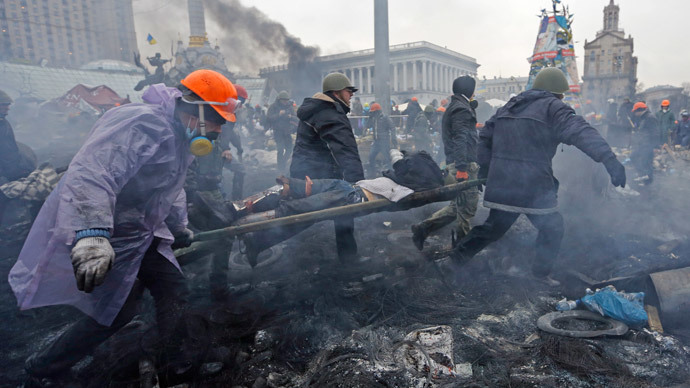 Snipers who are thought to have operated in Kiev's Independence Square amidst events that led to a coup in February 2014 were trained in Poland and sent to Ukraine to "do a favor" for the US, a Polish Euro-MP claimed in an interview.
On February 20, 2014, riot police trying to restrain anti-government demonstrators on Maidan Nezalezhnosti in Kiev suddenly retreated up the street from whence they had come. As the protesters rushed forward, gunfire suddenly broke out, with many witnesses saying it was a sniper attack. In some two hours, 46 people were killed.
A year after the tragedy that provoked a huge backlash from the Ukrainians, ultimately leading to the rapid toppling of then-President Viktor Yanukovich, the events on the square are still pending investigation. Several Berkut riot police officers have been detained [ https://www.rt.com/news/berkut-snipers-detained-ukraine-037/ ], but not much progress has been made, while murky details and speculation have been emerging in the press.
READ MORE: Kiev snipers hired by Maidan leaders - leaked EU's Ashton phone tape
In a new development, Polish former presidential candidate Janusz Korwin-Mikke told Wiadomosci media outlet that the snipers had actually been trained in Poland.
Korwin-Mikke, 72, a European lawmaker and leader of Poland's conservative KORWiN party, claimed this was a CIA operation. This came as a "Yes" reply to the question whether he believed the CIA was involved.
"Yes - but it was also our operation. The snipers were trained in Poland," Korwin-Mikke said adding this was done "to provoke riots."
Poland trained those "terrorists" to please the US, which invested heavily into Ukrainian coup, the politician alleged.
Korwin- Mikke: #Maidan snipers were trained in #Polandhttp://t.co/tlZi2nlhwcpic.twitter.com/cE00qUbOZZ

— Malinka (@Malinka1102) April 20, 2015
"Let me say this again: we are doing a favor to Washington," Korwin-Mikke said.
Challenged about his sources, the politician said he overheard this in the European Parliament as Estonia's Foreign Affairs Minister Urmas Paet "admitted" to the then-EU foreign affairs chief Catherine Ashton that it was "our people who opened fire on Maidan, not those of Yanukovich or Putin."
It is not clear when the conversation took place, but in March previous year a tape with a telephone conversation between the two politicians was leaked which went among the same lines.
"There is now stronger and stronger understanding that behind the snipers, it was not Yanukovich, but it was somebody from the new coalition," Paet said during the call.
"I think we do want to investigate. I mean, I didn't pick that up, that's interesting. Gosh," Ashton then answered.
The Estonian Foreign Minister later confirmed the authenticity of the talk
Conservative-Liberal Euroskeptic Korwin-Mikke ran for the Polish presidency in 1995, 2000 and 2005. A Catholic father of six and a popular blogger.
READ MORE: Maidan murders: 1 year on, still no justice over Kiev massacre
In Russia, the interview was noted by the Foreign Ministry Special Representative for Human Rights, Konstantin Dolgov.
"A Euro-MP from Poland has acknowledged that sniper for Maidan were trained in Poland, by no means in Russia. Truth is fighting its way!" Dolgov tweeted Tuesday.
Польский депутат Европарламента признал, что снайперы на Майдане обучались в Польше, а отнюдь не в России. Правда пробивает себе дорогу!

— Konstantin Dolgov (@KKdolgov) April 21, 2015
"Ukrainian authorities fear honest investigation of the Maidan events, it would expose that it were not only buns that western representatives handed out," Dolgov added.
You can share this story on social media: