Freak April blizzard takes Moscow by surprise (PHOTOS)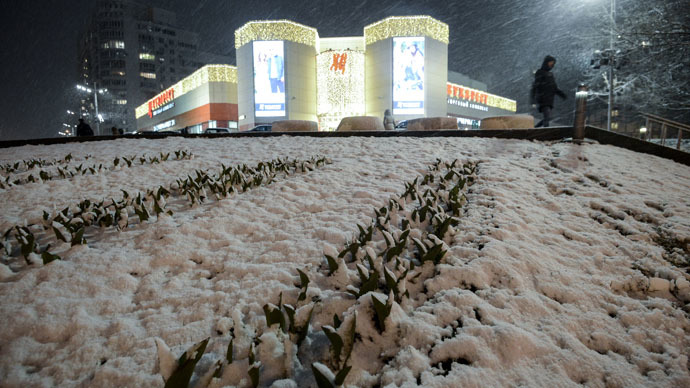 Polar bears at the Moscow Zoo were in heaven, but millions of residents in the Russian capital certainly were not as a snowstorm – yes a snowstorm in the middle of April - brought gasps and groans from city dwellers.
Winter fur coats were hastily unpacked, while those who had been putting off changing their winter tires – probably through laziness – were blessing their good fortune.
Photo: #Moscow , April 20. That's one heck of a #spring , ya know! #snow#russia#winter #снег #весна... http://t.co/nIBRf8aPqb

— Alexey Vinogradov (@AlexDuper) April 20, 2015
Muscovites took to social media to make their feelings known, with sarcasm certainly coming to the fore. Some were questioning that global warming had by-passed Moscow, while others just let pictures do the talking.
What Global Warming does about Moscow: snow in April. Is it really global warming? :-) http://t.co/Phh1OkpfJe

— Thing-In-Itself (@FactorOk) April 20, 2015
Из сегодняшнего) #Москва #Снегpic.twitter.com/NyUFUjWjli

— dboylopez142 (@dboylopez142) April 5, 2015
(The text says: "- Gandalf! - Yes, my friend... - Maybe we'd better go by Metro")
April in #Moscow... #snowhttps://t.co/dTc0GTPqBA

— Chris Grossman (@evilhorse) April 20, 2015
Despite being closer to summer, rather than spring and let alone Winter, Moscow was hit by a weather anomaly. An unexpected cyclone brought a front of cold weather to Central Russia.
#winter come bk in #Moscow ! -3! Bloody cold lol :D #April#snow#unbelievablepic.twitter.com/skwnqB0c9F

— Maria Andreeva (@MAndreeva) April 20, 2015
Снег в апреле! Snow in April #weather#moscowpic.twitter.com/SwRor1Syxp

— Vlad Karalla✳️️ (@VladKaralla) April 20, 2015
Meteorologists say the unseasonal chill is likely to last until the weekend. However, they expect the temperature to return to 'normal' at the start of next week.
Snow in Moscow. Снег в Москве pic.twitter.com/7CX7rLe1Qp

— annzpoint (@annzpoint) April 20, 2015
#погода #Москва #лубянка #снег #апрель by ruresident pic.twitter.com/Nqugdh6Yaf

— InstaЛефортово (@InstaLefortovo) April 19, 2015