France invests €100mn in battle against anti-Semitism & Islamophobia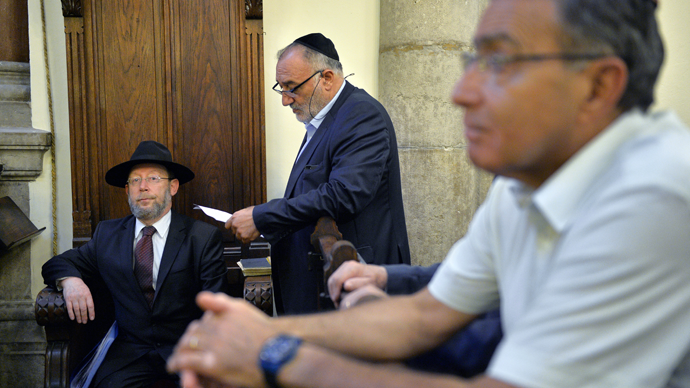 France is allocating €100 million to battle racism, anti-Semitism and Muslim hate in the wake of recent hatred-driven violent attacks in the country, but it will take at least a decade to get rid of racial tensions, Jewish journalist Zvika Klein told RT.
Zvika Klein, from Jewish news outlet NRG, has gained world-wide recognition after posting a YouTube video of him walking silently through the streets of Paris wearing a kippah on his head. The experiment exposed the extend of anti-Semitism in France as he was intimidated and even spat at by the local Muslims.
READ MORE: Jewish journalist taunted, spat at in 10hr Paris walk (VIDEO)
Yet despite receiving such a treatment, he remains hopeful that the newly unveiled 100 million euro plan by Prime Minister Manuel Valls to tackle racist prejudices will one day make Jews walking on the street of Paris safe.
"I think it takes many years to fight racism, to fight intolerance," Klein said. "Any acts of racism are problematic and I think it is very important that the government is doing what they can to change that."
The new measures include introducing a ban on hate speech in penal law, instead of the regulation of the press. Racist or anti-Semitic speech will be designated as an aggravating factor, leading to harsher punishments for other crimes. In addition to this, victims will be allowed to join forces in class action lawsuits for discrimination.
Another novelty would be the establishment of a national police unit to monitor and battle hate crimes online.
"Racism, anti-Semitism, hatred of Muslims, of foreigners and homophobia are growing in an insufferable manner in our country," Valls said Friday as he unveiled his plans. With close to five million Muslims and around 600,000 Jews in the country, French people should not be "afraid of being Jewish" or "ashamed of being Muslims," said Valls.
In addition particular emphasis is being placed on educational institutions, especially schools, where staff will be encouraged to report racist or discriminatory incidents. "It is through education, teaching skills and understanding of the other that we can counter the stereotypes and negative images," said Valls.
While admitting that Islamophobia is on the rise in France and in Europe in general, Klein is certain that it does not stem from the Jewish population.
Ce que contient le plan de Manuel Valls de 100 mill° d'€ contre le #racisme & l'#antisémitismehttp://t.co/9vwbeUckx6pic.twitter.com/iGtMncNl49

— France Renaissance (@An_Renaissance) April 17, 2015
"Muslims walk around Europe and in France as Muslims and I don't think the Jews will spit on them and curse them," Klein told RT. "I have not heard of that happening."
Tensions have gotten worse in a certain areas, following the Charlie Hebdo attacks, says Klein.
"There have been many attacks that you haven't heard of in the world media because they were smaller attacks and because people haven't been killed. Hundreds of army personnel that have been put outside of synagogues outside of mosques have been cursed, have been threatened. Two of them have been stabbed."
READ MORE: French flocking to buy books on Islam following Charlie Hebdo attacks
A new French new plan to fight racism comes just three months after devastating terror attacks carried out by jihadist gunmen left 17 people dead in Paris. After the attacks, France, as well as the rest of Europe has seen a staggering rise in Islamophobia.
In just the first two weeks of January, there were 128 anti-Muslim acts committed across France, besides the Paris region, compared to 133 in all of last year, according to an internal study released last month by the French Muslim Council.
Meanwhile the perceived threat to the Jewish community prompted the Israeli Prime Minister Benjamin Netanyahu to reiterate his calls, urging Jews living in Europe to "return home" to Israel.
"Israel is your home. We are preparing and calling for the absorption of mass immigration from Europe. To the Jews of Europe and to the Jews of the world I say that Israel is waiting for you with open arms," he said.
You can share this story on social media: