Greece will 'compromise' with creditors, but 'not going to be compromised'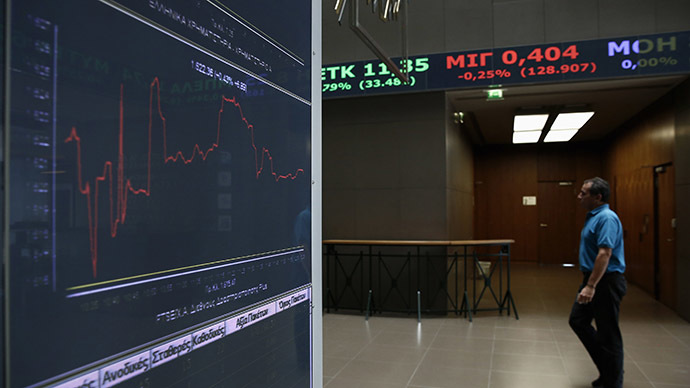 Greece is determined to stay in the eurozone, but signing an existing deal with its creditors won't help to solve problems, said the country's finance minister. Athens owes the IMF some €1bn by next month, and skipping a payment would be unprecedented.
Despite expressing hopes of remaining in the eurozone, Greece is struggling to keep its head above water as the country owes some €1bn to the IMF in repayments next month, with Christine Lagarde warning that the country will not be allowed to skip payments.
Athens is not considering the option of leaving the eurozone, Finance Minister Yanis Varoufakis said while in Washington, mustering support for the Greek economy.
"Toying with a 'Grexit'... is profoundly anti-European," Varoufakis said speaking at the Brookings Institution. "Our only rational pro-European response is to spend every waking hour... trying to reach an honorable agreement."
Varoufakis said that in order for Greece to remain in the eurozone, international lenders have to work with Athens so that the new deal and austerity measures will be less felt by the public.
"We will compromise, we will compromise and we will compromise in order to come to a speedy agreement, but we are not going to be compromised," he insisted.
READ MORE: Greece isn't preparing default - Tsipras dispels rumor
Time is working against Greece as Athens tries to secure another €7.2 billion that will help its struggling economy live through several debt repayments due over the course of the next two months. A deadline for the framework agreement over the terms of a new loan is set for April 24.
"The negotiation must succeed," Varoufakis said, as the sides already have "a great deal" of common ground. "It will be such a shame that this agreement is not concluded in the next few days, weeks," he added.
Yet he warned that Athens will not sign up "to targets we know our economy cannot meet by means of policies that our partners should not wish to impose."
EU creditors want more reforms from Greece to get more funding. Greeks, instead of austerity policies, want to focus on stimulus schemes needed to recover economic growth.
Just next month Athens must pay the IMF around 1 billion euros, and the fund's Chief Christine Lagarde says that skipping a debt payment will not be tolerated.
"We never had an advanced economy actually asking for that kind of thing, delayed payment," Lagarde said in an interview Thursday in Washington with Bloomberg Television. "And I very much hope that this is not the case with Greece. I would certainly, for myself, not support it."
Lagarde hopes that the Greek government reforms will make the Greek economy "more stable and to create jobs."
Meanwhile in Brussels negotiations are continuing, as failure to repay creditors would lead to a technical default and may eventually force Greece out of the eurozone.
"We continue to work with other institutions and the Greek authorities. Talks are ongoing. However at this stage, we are not satisfied with the level of progress," European Commission spokesman Margaritis Schinas said at a press conference in Brussels Thursday.
Greece has already announced cuts in government spending, which aim to save around 300 million euros, but it still yet to produce a "full list" of planned reforms as was demanded by EU leaders at a summit last month.