'No end to sanctions, no agreement': Iran sticks to nuclear deal demands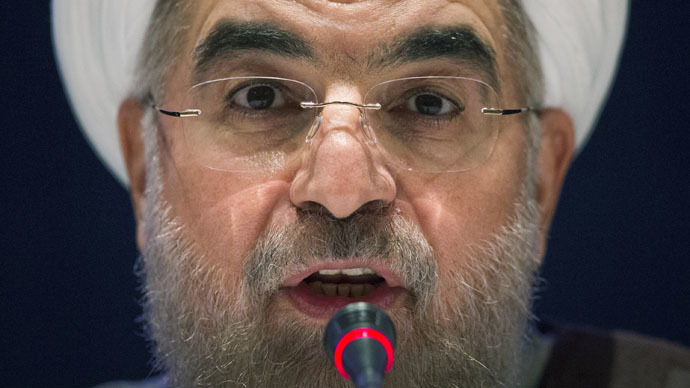 There'll be no deal on Tehran's nuclear program without the simultaneous lifting of all sanctions against Iran, President Hassan Rouhani stressed, echoing an earlier statement by Iranian supreme leader, Ayatollah Ali Khamenei.
"If there is no end to sanctions, there will not be an agreement," Rouhani said in a televised speech in the northern Iranian city of Rasht. "The end of these negotiations and a signed deal must include a declaration of cancelling the oppressive sanctions on the great nation of Iran."
By signing the deal, Tehran wants to end its international isolation and build a "constructive interaction with the world and not confrontation," he said.
Rouhani also stressed that Iran is in negotiations with P5+1 powers (China, France, Russia, UK, US and Germany), but not the US Congress, referring to the standoff between President Obama's administration and lawmakers over the nuclear deal.
A unanimous vote by a Senate committee on Tuesday, which granted Congress the power to review a potential Iran nuclear deal after a June 30 deadline is a US domestic matter, he said.
READ MORE: Netanyahu's biggest fear? That Iran 'honors nuclear deal'
The vote came as a result of a compromise between the White House and the Senators, which allowed Obama to avoid possible legislative disapproval of the agreement before it can be completed. The development was praised by Israel, which has been a persistent critic of the Iranian nuclear deal, repeatedly stating that it "would not block Iran's path to the [nuclear] bomb. It would pave it."
"The compromise reached in the Senate [committee] is a good one and a very important development," Intelligence Minister Yuval Steinitz told Israel Radio. He called the vote "an achievement for Israeli policy" after Tel Aviv has rallied its allies in the Congress in an attempt to block the Iranian deal.
Another round of talks involving Iranian and international negotiators, aimed at turning the framework agreement, reached earlier this month, into a final deal, is scheduled to begin on April 21.
Several complex technical issues will be on the agenda, including the timetable for a lifting of international sanctions.
READ MORE: Tehran and world powers reach solutions on Iran nuclear program
Iran said it will scale down its nuclear program and agree unprecedented inspections of its activities in the field in exchange for the removal of all restrictive measures against the country on the same day the deal is struck.
However, the world powers lean towards gradual lifting of the sanctions and want a mechanism developed to ensure they can be quickly re-imposed if Tehran violates the agreement.
Iran's Foreign Minister Mohammad Javad Zarif may meet up with his counterparts from P5+1 powers in New York later in April to keep discussing the deal, his Ministry said.
"It could be possible that negotiations take place on the sidelines" of the review conference of the nuclear Non-Proliferation Treaty, which starts on April 27, Marzieh Afkham, a Foreign Ministry spokeswoman, is cited by AFP.
'No end to sanctions, no agreement': Iran sticks to nuclear deal demands
Iran was placed under harsh international sanctions as the West believes that it is developing its nuclear program to make an atomic bomb. The accusations have been denied by Tehran throughout 12 years of tensions, as it claims that the nuclear energy is needed purely for civilian purposes, such as cancer treatment and energy supplies.
You can share this story on social media: