'Historic step towards nuclear-free Japan': Maverick judge forbids restart of 2 nuclear reactors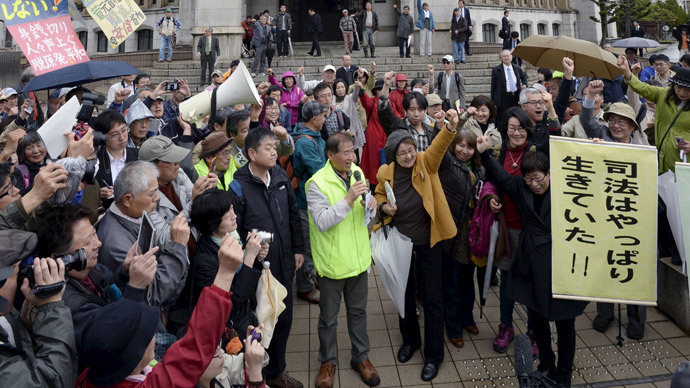 A local judge has placed an injunction on the re-opening of two nuclear reactors at Japan's Takahama plant, even though it had passed the country's new post-Fukushima safety checks.
"The new regulations are not reasonable, therefore there is no need to study whether the Takahama plant satisfies them," said judge Hideaki Higuchi in his ruling.
"There is little rational basis for saying that an earthquake with a magnitude that exceeds the safety standard will not occur. It is an optimistic view."
The decision, following a lawsuit by nine residents of the Fukui prefecture affects reactors 3 and 4 at the Takahama facility, which its operator, Kansai Electric Power (Kepco) planned to open later this year.
"This is the perfect victory – the best decision we could have expected," a member of the plaintiffs' legal team told national broadcaster NHK. "This ruling is a historic step toward abolishing nuclear power, and the government and power company should respect it."
Indeed, the ramifications of the decision go beyond the single Takahama plant, commissioned in 1974.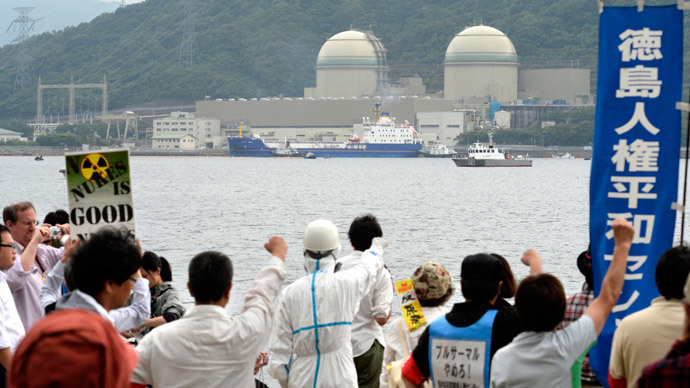 Fukui prefecture is home to 13 of Japan's 48 usable reactors, and is known as the country's Nuclear Alley. Judge Higuchi, whom Kepco demanded be removed from the panel during the latest case, already blocked the re-opening of another plant in Oi last year.
But unlike the Oi facility, Takahama has sailed through the supposedly more stringent independent examinations, which were introduced after a tsunami and earthquake caused multiple reactor meltdowns at the Fukushima Daichii plant in March 2011.
According, to Aileen Mioko Smith, a prominent anti-nuclear activist, the new decision means that all companies wanting to re-open plants will likely face lengthy legal battles.
Residents cheer, raise their fists at Fukui court after judge issued injunction against restarting #Takahama reactors pic.twitter.com/8aYpc0d4Sn

— Thoton & The News (@Thoton) April 14, 2015
"It is the first time in decades of nuclear history when citizens have tried to stop power plants, and won," Mioko Smith told RT, mentioning that any initial appeal would take between six months and a year.
Unsurprisingly, Kepco has already stated that they will challenge the decision, calling the ruling "regrettable and utterly unacceptable." It is unclear if more senior judges will follow Higuchi, who has been portrayed by the media as a non-conformist held back from promotion, for failing to prioritize corporate and government interests, as is common in the Japanese judicial corps.
Faced with energy prices that have risen 20 percent, loss-making energy companies that have to subsidized from the state budget, and huge clean-up costs from Fukushima, the government of Shinzo Abe has pushed for nuclear energy to be re-introduced into the mix.
READ MORE: Robot sent to Fukushima reactor core records fatal radiation levels (VIDEO)
The government's yet-to-be-approved long-term energy plan stipulates that a fifth of the country's energy be generated from nuclear reactors, despite opinion polls that have consistently shown that the public opposes atomic energy.
"The reactors have been judged by experts to meet the new safety standards. These are some of the world's strictest regulations," chief cabinet secretary Yoshide Suga said in a statement.
"We will respect that judgment, but there is no change to our policy of moving ahead with restarts."
You can share this story on social media: