​Know your enemy: Aussie defense minister can't name ISIS leader in interview
Published time: 14 Apr, 2015 15:13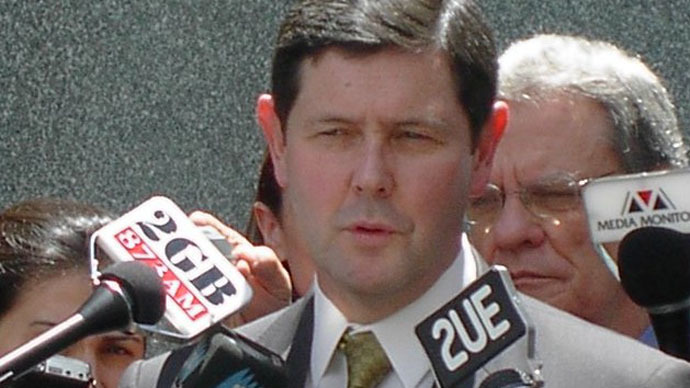 Shortly after committing Australian troops to fight against the jihadist radicals of the Islamic State in the Middle East, the Australian defense minister failed to name the leader of the group when challenged in an interview.
Just hours after Defense Minister Kevin Andrews committed 330 Australian soldiers to a two-year mission to help Iraqi forces defeat the Islamic State (IS, formerly ISIS/ISIL), he was grilled by ABC's 730 host Leigh Sales to name the IS head.
In a possible effort to deflect the question, Andrews said there exists "a cadre of leaders in the ISIL forces and we're not just dealing with one organization. There's fluidity between organizations and individuals who are involved."
When Andrews said he would not get into "operational matters" by specifically naming the IS leader, Sales went on the attack, responding: "I don't think that's operational. I think it's a matter of public record."
Andrews said ISIS "operates not just in Iraq but across Syria as well. There's not just one group involved and not one just group of individuals involved and so we have to counter that as best we can over the coming weeks and months."
At this point, when it was clear the minister had forgotten that Abu Bakr al-Baghdadi is the leader, she said: "Minister, you're responsible for putting Australian men and women in harm's way in the cause of this mission. I'm surprised that you can't tell me the name of Islamic State's leader.
"The US State Department has a $10 million bounty on his head," she continued.
READ MORE: New ISIS video threatens 9/11-style attacks in US
"ISIL is a combination of groups," he explained. "There is not just one individual involved in this. There are Australians involved in the senior leadership of Isil or Daesh, and there is a fluidity between groups."
In June 2014, IS announced the establishment of a worldwide caliphate and Al-Baghdadi was named its caliph. At this point, the Islamic State of Iraq and the Levant was renamed the "Islamic State" (IS).
The extra Australian forces are in addition to 200 Special Forces soldiers and 400 personnel already assisting the aerial mission against IS.