Anonymous declares cyber war on ISIS Twitter users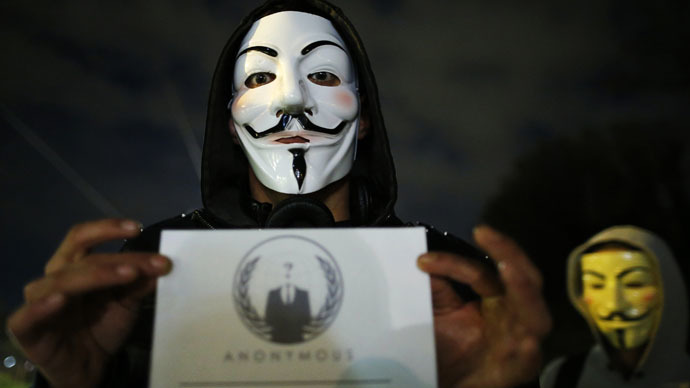 Hacktivists from the Anonymous group have attacked hundreds of pro-Islamic State websites and thousands of social networks' accounts used by the terrorist group. ISIS has hit back though, threatening another 9/11 terror act against the US.
A faction of the Anonymous group, called GhostSec, is carrying out a cyber campaign called #OpISIS against the Islamic State (IS). They are looking to target members and supporters of the terrorist organization, who want to spread propaganda over the internet.

Anonymous are monitoring social media accounts as well as websites operated by the group formerly known as ISIS/ISIL to disrupt their online operations as they try to "cure the ISIS virus."
#OpISIS damage report. 233 websites attacked. 85 websites destroyed. 25,000 Twitter accounts terminated. #Anonymouspic.twitter.com/DtZpFUdNRT

— DIGITΛSHΛDØW (@DigitaShadow) April 8, 2015
The GhostSec division of Anonymous has been keeping itself busy. They have been compiling a list (https://ghostbin.com/paste/ce5jz) of websites "frequently used by the Islamic State through Twitter and other social media platforms for transmission of propaganda, religion, recruitment, communications and intelligence gathering purposes," the group said in a statement.
On Wednesday, the Anonymous group reported of "casualties" among the enemy ranks, which included 233 websites, which had been attacked, 85 websites that had been "destroyed" and 25,000 "terminated" Twitter accounts.
Not everyone is happy with the actions undertaken by Anonymous. Security services have criticised the group for taking matters into their own hands. These intelligence bodies say the elimination of jihadist websites and social media accounts prevents them from gathering valuable information concerning their activities.
#ISIS Site http://t.co/puqW6TJ7QB Downed By - #Offline#TangoDown#Anonymous#GhostSec#OpISIS - @DigitaShadowpic.twitter.com/IIKcMlPX9N

— Terrormonitor.org (@Terror_Monitor) April 11, 2015
These accusations were dismissed by Anonymous, who pointing out that public websites and social media accounts are used to spread propaganda and for recruitment purposes. The group added they are not used for communicating valuable military and strategic information.
Twitter on anti-terror crusade
IS has taken to Twitter to try and spread its extremist messages to a wider audience, however the social media platform is striking back.

Twitter prohibits "direct, specific threats of violence against others" and has started its own crusade against those looking to spread pro-Islamic State propaganda. Over the last few months, Twitter has been suspending about 2,000 IS-linked accounts per week.
The UK publication, the Daily Mail reported on Friday that the micro-blogging service has already suspended a total of 10,000 ISIS-linked accounts in just 24 hours. However, thousands more are being registered to replace those that have been closed down.
IS and its supporters have not been happy with the stance taken by the social platform and co-founder Jack Dorsey has already received death threats from irate jihadist sympathizers.
This is our leader To Anpali from your commander did you understand? #WewillBurnUSAgain #سنحرق_أمريكاpic.twitter.com/5TnQn8utTo

— ابومطلق (@abu_mutlaq00000) April 11, 2015
"Your virtual war on us will cause a real war on you," the Islamists told Twitter via the image-sharing site, JustPaste.it. They warned that Twitter employees and its co-founder have become "target for the soldiers of the Caliphate and supporters scattered among your midst!"

"When our lions come and take your breath, you will never come back to life," extremists linked to IS stated.
I'm proud to say #WewillBurnUSAgainhttps://t.co/La6dZHGw0ypic.twitter.com/q8e4IqHUrW

— Khlifa006 (@khlifa006) April 11, 2015
The threats against Twitter are just a small part of a much broader terrorist effort under hashtag #WeWillBurnUSAgain. The hashtag was created by a pro-IS media group, Rabitat al-Ansar, on April 8.

"What happened in France is not far from you and will be repeated, but this time in the streets of American cities. The word will be what you see and not what you hear," Rabitat al-Ansar wrote.
The #WeWillBurnUSAgain campaign started on Friday with thousands of tweets referring to Osama bin Laden and the destruction of the World Trade Center in New York. According to the INSITE on Terrorism organization, the hashtag was used on at least 15,000 accounts.
You can share this story on social media: