Obama & Castro shake hands during historic encounter (PHOTO, VIDEOS)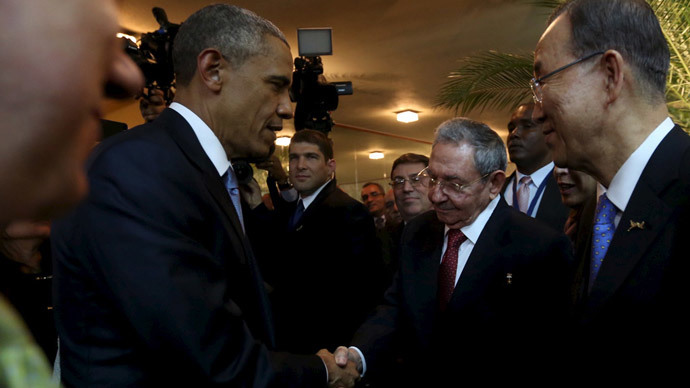 US President Barack Obama shook hands with his Cuban counterpart, Raul Castro, at the Summit of the Americas in Panama. The gesture has been seen as signaling a historic thaw between the two countries as they seek to reestablish diplomatic relations.
Obama and Castro encountered each other in the midst of other foreign leaders at the summit. Photographs and videos from the event showed the two shaking hands as they greeted one another, as well as nodding as they spoke.

Leaders of the United States and Cuba have rarely spoken over the past 50 or so years because of an American embargo implemented against Havana, which was put in place shortly after Fidel Castro led a socialist revolution in the 1950s. However, last year, the two countries announced that they would look to mend their strained relationship.
EXCLUSIVO: encuentro del pdte de Cuba Raul Catro y el pdte de EEUU Barack a Obama

A video posted by Madelein Garcia (@madeleintelesur) on Apr 10, 2015 at 7:14pm PDT
During the opening remarks at the summit on Saturday, Obama called the meeting of the two presidents "a historic occasion." He added that the US is looking to the future and "will not be imprisoned by the past."

Castro welcomed Obama's speech saying that the US president was "an honest man". Though, both acknowledged that the differences between their countries would persist.

"I once again confirm to President Obama our intention to engage in dialogue and work on the relationship between our countries, as accustomed in a civilized world," said Castro. "The promise made by the American leader about Cuba's removal from the list of states sponsoring terrorism is a positive step - our country should not have entered it in the first place."
Short handshake after more than 50 years of silence between U.S. and Cuba http://t.co/Xcs1luDIhKpic.twitter.com/KpruOJtEsD

— Salvador Hernandez (@SalHernandez) April 11, 2015
The meeting was seen as yet another sign of thawing relations between Cuba and the US.
Speaking Friday, Obama said the US is not looking to interfere with Latin American countries as it used to.

"The days in which our agenda in this hemisphere so often presumed that the United States could meddle with impunity, those days are past," he said, Reuters reported.
Among those who would hardly be convinced is Venezuelan President Nicolas Maduro. Just days before the summit he was calling on compatriots to sign a petition rejecting what was described as interference in Venezuela's internal affairs. Millions of signatures have been collected.

READ MORE: 5mn Venezuelans sign petition against US aggression & interference

Maduro symbolically started his Summit of the Americas trip with visiting a monument honoring victims of the 1989 US invasion of Panama.

Maduro promised to personally deliver to President Barack Obama the victims' petition demanding the US apologize for the military incursion that removed dictator Gen. Manuel Noriega and compensate families who lost loved ones, AP reported.

"Never again a US invasion in Latin America," Maduro said to a crowd of several hundred people, who chanted: "Maduro, stick it to the Yankee!"
Another issue that stands in the way of Washington's attempts to boost ties with Latin America are US military bases there.
Barely a fortnight ago, the secretary general of the Union of South American Nations, Ernesto Sampler, said Latin states should seek the closure of all US bases.

"Now is the time to introduce a new agenda for US-Latin American relations," Sampler said. "There must be no US military bases in South America. They are a remnant of the Cold War era."
READ MORE: Remove US military bases from Latin America - UNASUR chief
Washington argues it's part of the war on drugs. But regional expert Eva Golinger says there's more to it than that - and the US won't give up the bases without a fight.
"On different occasions throughout history these bases have been used to invade countries in the region, impose dictatorships, execute regime change, coup d'etats," Golinger told RT. "The US is not going to just pick up and leave. These are important geopolitical military bases and Pentagon invests a lot in them every year. In fact the US is in the middle expanding its military presence through sort of smaller operating bases."

A report, ordered by the Colombian government and published in early April, said 53 women and girls were raped by US soldiers stationed in Colombia between 2003 and 2007.

Among the most-shocking allegations in the report is that youngsters were apparently raped by private security contractors, who allegedly filmed the attacks and then sold them as child pornography. In most cases, the crimes went unpunished.
READ MORE: US troops, contractors sexually abused Colombian girls with impunity – report
The US army promised to investigate the allegations.
A former US Air Force lieutenant-colonel, Karen Kwiatkowski, told RT that it's unlikely the victims will see justice.
"In almost all cases the local government divest themselves from the justice for the soldiers or for their own people," Kwiatkowski said. "They basically defer to the US military justice system to keep the soldiers in line, to punish them when step out of line and punish them in a local community. People should make sure it does not happen. Because if it does happen it will come with the exact judicial protections for American soldiers that you are seeing now."
You can share this story on social media: