150 dolphins feared dead after mass beaching in Japan (PHOTOS, VIDEO)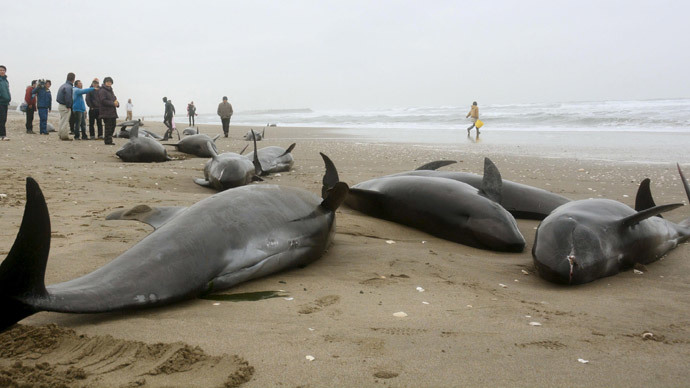 Only three of some 150 electra dolphins are believed to have been saved, after being washed ashore in the Ibaraki Prefecture. Scientists are trying to explain the incident, while some see it as an ominous sign to a similar case before the 2011 earthquake.
READ MORE: 'First time in 30 years': Japan whaling ships return from Antarctic trip EMPTY
At least 149 melon-headed whales – a species of dolphin – were found at the Hokota beach on Friday, according to local officials. Rescue efforts were abandoned as night fell, and only a handful of mammals could be saved.
東日本大震災の時もイルカがあがったのに また太平洋海岸にイルカがあがった… はんぱな pic.twitter.com/LOyGPwHWAp

— れいぽよ(れい汰む) (@Reinatyamaaaa) April 9, 2015
"It was becoming dark and too dangerous to continue the rescue work at this beach, where we could not bring heavy equipment," an unnamed Hokota municipal official told AFP. "Only three of them have been successfully returned to the sea, as far as we can confirm."
READ MORE: Starving & sick: Sea lion pups wash ashore in record numbers, global warming blamed
Rescuers, most of whom were volunteers, tried to save the dolphins by pouring water on them, to prevent their skin from getting too dry.
鹿嶋でかなりの数のイルカ打ち上げ(>.<) 地震に備えましょう!! pic.twitter.com/DrmXdGdWqc

— taka-yasu (@921Takano) April 10, 2015
Videos from the scene showed rescuers trying to release the dolphins back into the ocean, but the tide washed the weak animals back onto the beach. Photos revealed that some were badly cut and had deep gashes.

"They are alive. I feel sorry for them," a volunteer told NHK TV channel.
READ MORE: The Great Dying-2? Manmade CO2 levels could cause repeat of largest mass extinction event
The reason for the mass beaching has not yet been established. Tadasu Yamadao, a researcher at the National Museum of Nature and Science suggested that the dolphins might have got confused and lost.
"Sonar waves the dolphins emit might have been absorbed in the shoals, which could cause them to lose their sense of direction," Yamadao told the Yomiuri Shimbun newspaper.

However, social media users recalled a similar incident occurred a week before the March 11, 2011 earthquake that resulted in a devastating tsunami that killed tens of thousands of people. About 50 electra dolphins were washed ashore in a similar area on March 3, 2011.
コスモでイルカが100頭以上うち上がってるらしい 原因は不明 12日でかい地震があるかも?らしいので気をつけましょう pic.twitter.com/w5MnDJwy3d

— 中澤 海斗 (@surf_kaito) April 10, 2015
READ MORE: 2,000 dead snow geese 'basically… just fell out of the sky' in Idaho
You can share this story on social media: