At least 6 killed, dozens wounded in firefight with gunmen at attorney's office in Afghanistan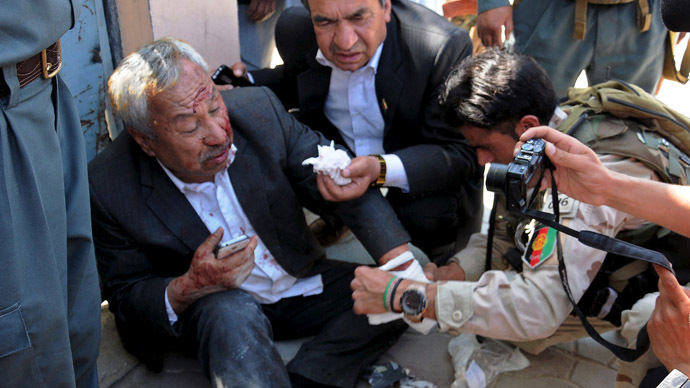 At least six people were killed and as many as 63 injured, according to varying reports, after gunmen stormed a state attorney's office in northern Afghanistan.
6 Suicide bombers are killed in Balkh attack, two are still fighting and took hostage some people. Security source. #Afghanistan

— Pajhwok Afghan News (@pajhwok) April 9, 2015
The six-hour siege has now ended and all five gunmen were killed by the Afghan National Security Forces, which had the area surrounded.
Two massive bangs and constant rounds of shooting still going on at attorney general's office. 2 assailants are said to be exchanging fire

— Tahir Qadiry (@tahirqadiry) April 9, 2015
The district attorney, who was among the staff inside the building, has since been freed, but one top security official is said to be among the dead, as well as two police officers. Twenty-six government officials were injured in the attack.
I am told by my sources that attorney general head in Balkh rescued by Balkh gov bodyguards; he is safe now pic.twitter.com/LbX4EmIV0E

— Tahir Qadiry (@tahirqadiry) April 9, 2015
Initial information showed "that armed men entered the provincial Appeals Court in Mazar-i-Sharif today," the acting police chief for the Balkh province, Abdul Raziq Qaderi, told AFP.
"Gunmen exchanged fire with Afghan security forces and the attack is ongoing," he said. There were reports of four huge explosions at the start. Nine people were almost immediately wounded in the firefight and taken to a local hospital. There are further reports that a police spokesman was among the wounded as well.
Almost 5 hours later, the attack on Balkh prosecutor office still ongoing. Eyewitness report explosions and gunfire inside the compound.

— Mujib Mashal (@MujMash) April 9, 2015
"Most of the nine wounded people brought to the hospital are prosecutors and court staff," the deputy head of the hospital told AFP. Another report from Afghanistan's Pajhwok news agency, however, claimed that five people were killed and 20 injured. Later local reports indicated that the former district chief of the Balkh province was among the deceased.
Ambulance sirens heard all around the siege scene pic.twitter.com/VdzCmPoR4F

— Tahir Qadiry (@tahirqadiry) April 9, 2015
Smoke could be seen billowing from the attorney's office, as reports of the assailants throwing grenades at police emerged.
Said Enayatullah, a former commander and 6th police district chief in Balkh amongst the dead pic.twitter.com/5LRGT9AQKk

— Tahir Qadiry (@tahirqadiry) April 9, 2015
The Taliban has claimed responsibility for the attack.
"Breaking News: This noon suicide [attackers] stormed office of the attorney and appeal court of Balkh province," Taliban spokesman Zabihullah Mujahid said in a statement. "Heavy casualties for enemy, battle continues."
Thick smoke coming out of Balkh Attorney Office; insurgents are tossing grenades. 2 killed and some 20 wounded pic.twitter.com/THzP3VbxRK

— Tahir Qadiry (@tahirqadiry) April 9, 2015
On Wednesday, one US soldier was killed and two injured in the eastern Afghan city of Jalalabad in an attack by an Afghan soldier at a regional governor's compound. The attack, which ended with the Afghan soldier being killed, happened shortly after a visit by a US embassy official.
Am some 200 meters to the scene of the attack; hundreds of people watching the attack - very loud sounds of shooting pic.twitter.com/a5Xdr8QPSI

— Tahir Qadiry (@tahirqadiry) April 9, 2015
Smoke coming out of the attorney general office in northern Balkh. Some shootings still heard pic.twitter.com/V7iK06dF6b

— Tahir Qadiry (@tahirqadiry) April 9, 2015
You can share this story on social media: