President Rouhani: Iran won't sign final nuclear deal unless all sanctions lifted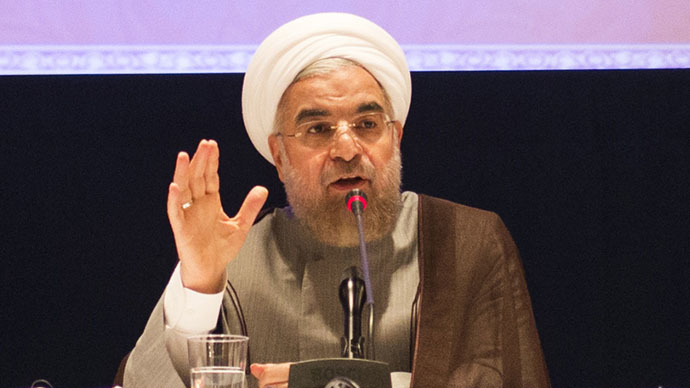 Iranian President said Tehran won't sign a final nuclear deal unless economic sanctions against the country are lifted first. The comments contradict Washington's statement that sanctions would be lifted gradually, subject to Iran compliance.
"We will not sign any deal unless all sanctions are lifted on the same day ... We want a win-win deal for all parties involved in the nuclear talks," Rouhani said in a televised speech on Thursday.
READ MORE: Tehran and world powers reach solutions on Iran nuclear program
The President's comments come as a blow to US President Barack Obama's efforts to sell the deal to its opponents, both in the US and abroad.
Supporters of the deal, which was negotiated last week at marathon talks in Switzerland and is to be finalized in June, say the sanctions relief for Iran would be gradual, and implemented in response to Iran's moves to scale down its nuclear program. They could be reversed in case of non-compliance, they argue. Obama has called the plan the best deal possible at the moment.
READ MORE: Iranian president: World powers accept Tehran's right to enrich uranium
The UN Security Council, the US, the EU and several other countries had imposed several rounds of sanctions against Iran due to its controversial nuclear program.
Lifting of the sanctions in exchange for a scaling-down of nuclear enrichment activities and a degree of international control over the Iranian nuclear industry is at the core of the deal. Agreeing exact terms on how quickly the sanctions will be lifted and how the program will be curtailed was a tough task for the nuclear negotiators.
"Our goal in the talks is to preserve our nation's nuclear rights. We want an outcome that will be in everyone's benefit," President Rouhani said in a ceremony to mark Iran's National Day of Nuclear Technology.
READ MORE: EU reinstates sanctions on major Iranian bank & 32 shipping companies

Iranian Supreme Leader Ali Khamenei said not reaching a nuclear deal would be better than reaching a bad deal for Iran, and Tehran's position in that regard had not changed.
Khamenei added that Tehran would not consider a postponement of the June 30 deadline for reaching a final nuclear deal "the end of the world." He also said that Iran would not allow international inspections, which the deal is expected to include, as these could compromise its military secrets.
Hours after the #talks, Americans offered a fact sheet that most of it was contrary to what was agreed.They always deceive &breach promises.

— Khamenei.ir (@khamenei_ir) April 9, 2015
"Based on past experience, I was never optimistic about negotiating with the United States," Khamenei said.
Previously, Iranian Foreign Minister Javad Zarif questioned on his Twitter account the statements from Western leaders that claimed the sanctions would be lifted gradually.
Iran/5+1 Statement: "US will cease the application of ALL nuclear-related secondary economic and financial sanctions." Is this gradual?

— Javad Zarif (@JZarif) April 2, 2015
You can share this story on social media: