New Okinawa base fueling anti-US sentiment as DefSec Ash Carter visits Japan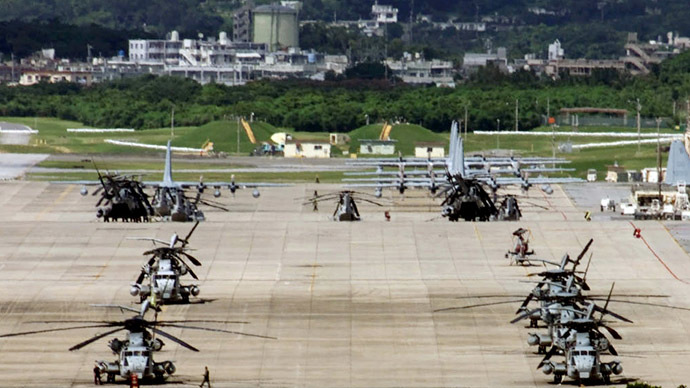 Incoming US Defense Secretary Ash Carter's visit to Japan is fast becoming overshadowed by an escalating row over a new American military base on Okinawa, which is threatening to derail Tokyo's pro-US involvement in regional security.
Carter's visit to Tokyo, which kicked off Wednesday, coincides with a major review of US-Japan defense cooperation, the first since 1997. It would formalize the US role in Japan's plan to allow collective self-defense, a policy that would permit Tokyo to aid militarily an ally facing an attack – a drift from Japan's restrictions put on its military by the country's post-World War II constitution.
Also on the table is the stalled relocation of a US military base in Okinawa to another part of the island. The US Marine Corps' Futenma Air Station in heavily populated Ginowan has been a cause of tensionbetween American troops and local residentsfor years. Okinawa, home to about 1 percent of Japan's population, hosts roughly half of the 47,000 US troops based in Japan.
Tokyo wants to shut the base down and open a new one in the more desolate area of Nago, in the center of the southern Japanese island. But the majority of the islanders, as well as Okinawa Governor Takeshi Onaga, want the construction of the replacement base near the town of Henoko to be stopped.
The issue is also likely to overshadow the upcoming visit of Japanese Prime Minister Shinzo Abe to the United States later this month.
Base an election issue
Governor Onaga got elected after challenging his predecessor, Hirokazu Nakaima, over the base. Nakaima gave the green light to the long-conceived base construction project, but now Onaga has promised to reverse that decision. In March, Onaga demanded that the underwater survey needed to build an offshore airstrip for the new base be stopped, citing environmental damage.
READ MORE: Tokyo begs Okinawa governor to okay planned US air base
A week later, Tokyo responded by having its fisheries minister suspend the governor's order to halt the work. Onaga had a tense meeting with Chief Cabinet Secretary Yoshihide Suga on Sunday, which resulted in some angry exchanges and the central government official warning that "giving up Henoko relocation could lead to Futenma Air Station becoming a permanent fixture," Okinawan newspaper Ryukyu Shimpo reported.
Tokyo insists that building the base is the only option on the table and has promised to work on easing the burden of hosting an American military facility on the islanders. The governor didn't appear to be convinced.
"The US military forcibly took over Okinawan land to build bases, which continues to bring huge suffering to the people today," Onaga said in a reference to the post World War II occupation of the island by the US troops.
"The fact the Japanese government is making such an unreasonable demand clearly shows how low Japanese politics has sunk," Onaga said.
Some 76 percent of Okinawans currently oppose the construction of the base, according to the latest opinion poll by the Okinawa Times, one of the prefecture's two largest newspapers. The poll also showed an 83 percent approval rating for Governor Onaga.
Why Okinawans oppose the base
The islanders have a laundry list of grievances linked to the US troops' presence on Okinawa. The Futenma base is a constant source of noise and pollution and is seen as a major hazard due to the heavy air traffic over urban areas.
There is a long history of incidents and alleged crimes committed by American soldiers on the island. The current wave of anti-base sentiment on Okinawa was sparked by a 1995 case, when three US marines kidnapped and brutally raped a 12-year-old elementary schoolgirl. There were less-publicized sex crime cases involving underage victims reported in 2001 and 2005, the fatal running over of a female high school student by a drunken US marine in 1998, and other crimes.
READ MORE: Anti-base Okinawa governor blocks relocation of US Marines
The problem has been aggravated by the difficulties faced by victims seeking justice, with Japanese authorities often perceived as being unhelpful. It took Catherine Jane Fisher, an Australian teacher and longtime Japanese resident, a decade to track down and bring to court a US sailor she accused of raping her.
The Japanese prosecutors for undisclosed reasons refused to prosecute her alleged assailant over the 2002 rape. In 2004, a Japanese court, reviewing a civil lawsuit, ruled that she was indeed a victim of the crime and awarded some $30,000 in damages.
By that time the accused was honorably discharged and US military officials refused to disclose his whereabouts, citing privacy reasons, according to Fisher. She had to track him down herself and file a separate lawsuit in the US to claim the damages.
"In my own case I was treated like a criminal," Fisher told RT. "I had to look for the rapist by myself. When I finally did find him 10 years later, the Japanese government – I had a meeting with them and said 'Will you please send court documents to the United States?' and they said they couldn't afford it. They couldn't even afford a postage stamp."
Fisher was awarded damages in 2012 by Wisconsin Circuit Court but settled for $1, Associated Press reported. She became an activist and defender of rape victims' rights in Japan.
"After doing my own research I realized that for that past 70 years the United States servicemen have been raping, murdering and committing crimes against Okinawans and nobody was speaking up about it," she said.
The conflict between Governor Onaga and the Tokyo government is expected to go to court if Onaga follows up on his threat and revokes the land development permit that his predecessor issued for the Henoko base.