Blast at paraxylene plant in China's Fujian Province (VIDEO)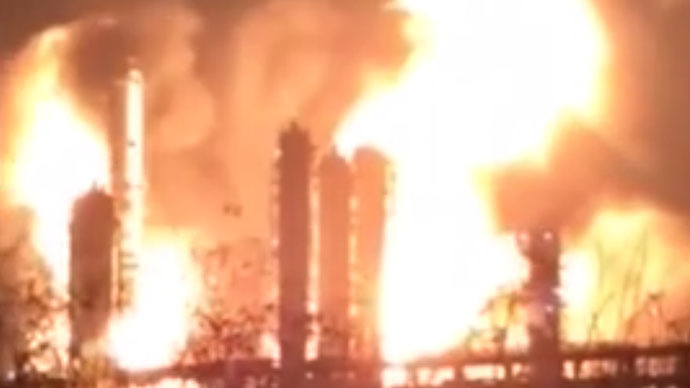 A massive blast occurred at a paraxylene plant in Zhangzhou City in China's Fujian Province, CCTV reported.
Importante explosion d'une usine pétrochimique à Zhangzhou, province du Fujian pic.twitter.com/mcKFRaTsUg

— Zhulin Zhang (@ZhangZhulin) April 6, 2015
#CHINA BLAST: Plant is #Tenglong Aromatic PX, encountered massive fire 2 years ago http://t.co/H19qlPqZeTpic.twitter.com/kBUqkJlPKq

— RT (@RT_com) April 6, 2015
Photos of the event revealed a fireball rising over the factory. Paraxylene, or p-Xylene, is a mildly toxic hydrocarbon used in polyester manufacturing.
#BREAKING: Blast reported at a paraxylene plant in #Zhangzhou City in #Fujian Province on Monday evening. pic.twitter.com/KqSvKSRT5a

— CCTVNEWS (@cctvnews) April 6, 2015
The PX plant suffered a powerful fire and explosion back in July 2013, when a hydrogen pipe ruptured during a pressure test. No casualties were reported.
The plant was built in 2009 and was initially slated for the city of Xiamen in the same province, but was relocated after protests over potential environmental problems. The project cost was estimated at $2.3 billion.
Zhangzhou is a city in the coastal Fujian Province in southern China. According to a 2010 census, it had over 4,800,000 residents at the time.