Turkey grants police & governors more power in new law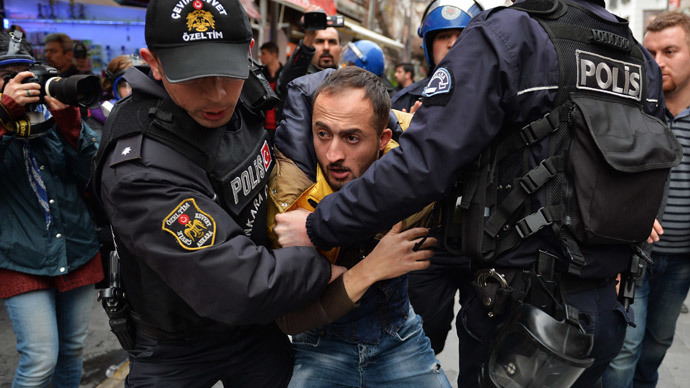 The Turkish president has signed into law an act giving more power to security forces and governors. Advocates say it addresses concerns over peaceful protests that frequently turn violent, while opposition is outraged.
President Tayyip Erdogan said in February that the Legal Package To Protect Freedoms bill "will pass one way or another." Passed by the Turkish parliament on March 27, it was signed into law on Friday.
The parliament debates over the legislation were more than heated, with some of them resulting in fistfights. The government eventually made some concessions, reducing the initial 132 articles of the draft bill to 68.
Prime Minister Ahmet Davutoğlu also remarked in February that although Erdogan's government had given one week for opposition parties to provide amendments to the bill, no proposals from the Republican People's Party, Nationalist Movement Party or People's Democratic Party followed.

One of the articles triggering the most dispute is one providing the police with the right to detain a person if they catch them red-handed at the scene of a crime. Security forces can keep the suspect detained for 24 hours without appearing before a judge, and this time frame can be extended by 48 hours if the police view the situation as "a collective crime."

Law enforcers are also allowed to employ firearms against those who "use or attempt to use Molotov cocktails, explosives, inflammables, incendiaries, suffocating devices, or other similarly injurious weapons."

The new legislation also classifies slingshots, iron pellets and fireworks as arms.
READ MORE: Turkish MPs brawl as Erdogan tightens grip on judiciary
Finally, a prison term of up to three years may be handed down to those who hold banners, emblems, signs, or wear uniforms of any group deemed an "illegal organization" by the Turkish government.
Before the law was passed, only judiciary authorities had the power to detain and hold individuals.
Local authorities have also been given more power. Governors can now initiate criminal investigations, when needed, something that previously only prosecutors could do.
Erdogan's critics say the law could be used to stifle protests in the restive Kurdish regions. 2013 also saw massive anti-government rallies in Turkey, such as the Gezi Park and Taksim Square protests, that lead to tense confrontations between law enforcers and demonstrators.