Storm Niklas rages through Europe, killing at least 4 (PHOTOS, VIDEO)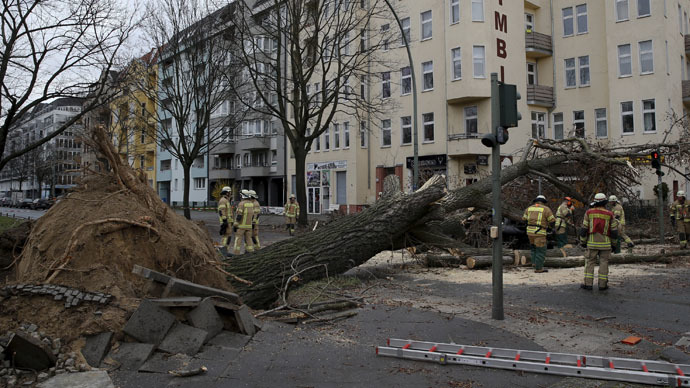 At least four people have fallen victim to Hurricane Niklas that has raged through Northern Europe, causing destruction and travel chaos with fallen trees and debris becoming a widespread scene.
Police in Germany have confirmed three deaths so far across Germany. One victim died near Magdeburg, east Germany, after a concrete wall was blown over by the storm. The other confirmed victims were two road maintenance workers who died after a tree fell onto their car in Rhineland-Palatinate.
As winds reached up to 160 kph (100 mph), the Netherlands also reported one fatality from the storm, in the town of Ede, where a man was killed when the roof of a warehouse fell on him.
Hurricane #Niklas' strong winds sweep down trees in #Berlinhttp://t.co/3UvALFDrappic.twitter.com/nF9qWwUwsE

— Ruptly (@Ruptly) March 31, 2015
Travel services have also been disrupted across the region, with Germany reporting canceled train services in North Rhine-Westphalia, Lower Saxony and Bavaria. Munich's main train station was evacuated after glass pieces fell from the ceiling. Over 150 flights were canceled at Frankfurt airport. Hamburg and Munich also witnessed flight disruptions.
In Switzerland, several mountain railways canceled trains, including the Matterhorn-Gotthard line between Andermatt in the canton of Uri and Disentis in the canton of Graubünden, ATS said.
The storm forced the closure of the cog railway to Mount Pilatus near Lucerne and various mountain cable cars, the Local reports, as105 km/h winds descended on Zurich.
Heavy rain following the weather front in Jura region, caused flooding in villages near Neuchâtel and Bern.
The Dutch meteorological office meanwhile issued a red warning as gusts of up to 120 kph (75 mph) caused damage estimated as being to the cost of several million euros.
Sorry, #Chicago! Today Cologne is the "windy city"! #köln#niklaspic.twitter.com/V4vziqsLSG

— Dominik Sommerfeld (@nicholaus_a) March 31, 2015
Around 90 flights were canceled at Amsterdam's Schiphol airport. Extreme weather also forced the closure of Europe's largest port at Rotterdam.
Britain and Belgium also suffered from the gusty winds, where the storm uprooted trees and cut power lines to hundreds of homes. Some areas in Germany also lost power.
You can share this story on social media: