100 Russian military units created in Crimea – defense minister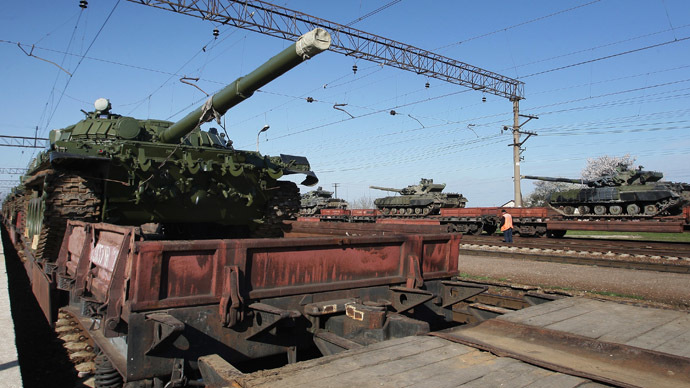 The Russian military has put together nearly 100 units and organizations in the Crimea last year as part of the program of deploying a self-sufficient group of forces at the peninsula, Sergey Shoigu, Russia's Defense minister, said.
"In accordance with the presidential order, we were instructed to deploy a self-sufficient combined group of forces in the Crimean Peninsula capable of effectively protecting the interests of Russia in this area. That task had been fulfilled by the end of 2014," Shoigu was cited as saying by Tass news agency.
The minister said that "96 units and organizations were formed" by the military in the Crimea, which last March was reunited with Russia.
READ MORE: Crimea will place nuclear weapons on its territory on President's orders - official
"The force grouping created in the Crimea not only defends Russia's interests in the Black Sea area and in the Crimean Federal District, it can also successfully accomplish missions in the offshore maritime zone," he said.
Shoigu reminded that the forces of the Crimea-based Black Sea Fleet as well as Northern and Baltic Fleets provided a permanent presence for Russia in the Mediterranean.
Russia is "organized full military training for the Crimean Air Force grouping, boosting the number of personnel involved in air defense," he said.
The Russian Aerospace Defense Forces will also have presence at the Crimean peninsula as "a separate command and measuring center in the city of Eupatoria is being equipped with state of the art hardware, which will enables to control all types of military spacecraft," Shoigu said.
READ MORE: 100,000 gather in central Moscow to celebrate Crimea reunification
The re-equipment of the Crimean facility with 20 new systems is scheduled to be completed in 2016, he added.
According to the minister, new barracks, warehouses and parks are being constructed at five garrisons on the peninsula, while the existing buildings undergo major repairs.
This spring will see the first Russian Army draft in the Crimea and the strategic port city of Sebastopol, he said.
"About 500 recruits will serve in military units, including those stationed on the Crimean peninsula," Shoigu said.
Crimea rejoined Russia in March 2014 as the people on the peninsula refused to recognize the new Ukrainian authorities, which came to power a month before via a violent coup.
During a referendum 96 per cent of the Crimean residents voted in favor of returning to Russia after over two decades of separation.
Kiev and the West refused to recognize the Crimean referendum and labeled Crimea's secession from Ukraine illegal, which led to several waves of sanctions imposed against both Crimea and Moscow.
You can share this story on social media: